"The Navigator" Convertible Cat Backpack Launch Giveaway
We are excited to announce the newest addition to our Travel Cat Shop, "The Navigator" Convertible Cat Backpack - Available Now!
So excited, in fact, that we've decided to give one to three lucky winners 😸
"The Navigator" Convertible Cat Backpack, brings on a whole new level of adventure. We designed this backpack especially with catstomer requests in mind, featuring new capabilities along with your favorite qualities about our other backpacks:
This is our second backpack that converts to a traditional carrier!
It has a waist strap addition with adjustable length, and the chest strap height & length is also adjustable, making this backpack our comfiest yet. 
It also comes with a water pocket and zipper pouch, so you can bring cat food and a water bottle with you.
The zipper pouch is covered, contains smaller pockets inside, along with a keyclip to make sure you don't leave anything behind on the trail!
Made of super strong mesh and soft fabric, this backpack provides tons of airflow and comfort for those longer ventures. The large front panel also unzips to get your kitty in easy! 
Want to use The Navigator for two cats? There are two inside clips for leashes or harnesses, doubling the fun and safety. 
Doubling as a traditional cat carrier, it's also great for basic travel needs like for trips to the vet and car rides, and gives your cat plenty of visibility to watch the world go by. 
Just like "The Fat Cat" Backpack, this backpack can hold up to 25lbs of cat! So whether you've got a bigger-boned feline, two medium-sized cats, or a bunch of kittens, everyone's included! 
We put great thought and detail into this design, to offer all you adventurous cat parents something even better suited for the outdoors. We hope you love this new "The Navigator" Cat Backpack as much as we do!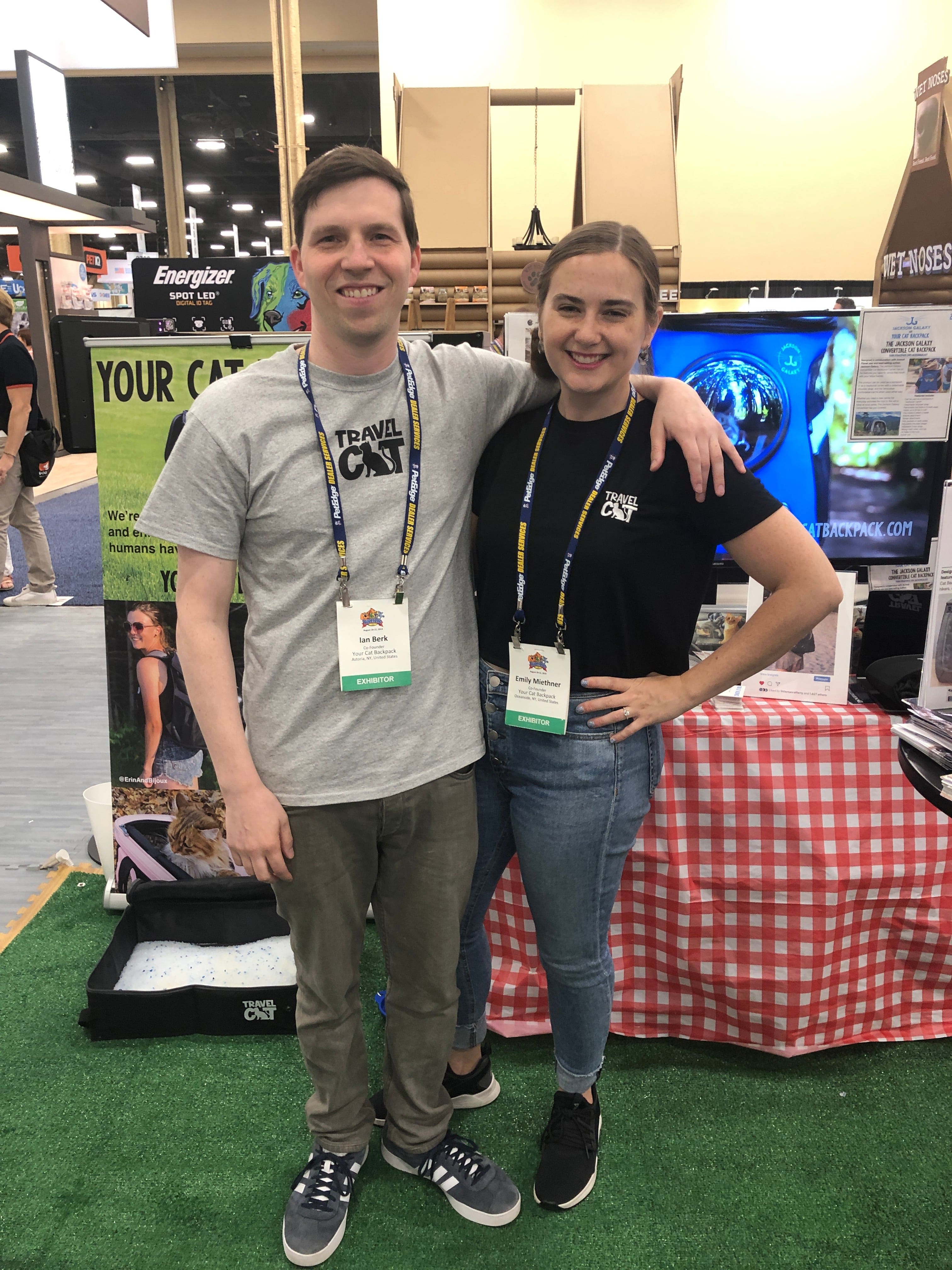 Family & Woman-Owned
Travel Cat was founded by me, Emily, and my husband, Ian. We've been together 14+ years and married 4+ years. We've both always been entrepreneurs - Travel Cat is our first business founded and run together.
Carried in 500+ Pet Stores Across the World
Let your local pet stores know they can carry our products. We love supporting other small business with our gear.
Meet us at IRL Cat Events
We love meeting you in-person and have attended tons of cat shows and events, oftentimes bringing panels of our catsomers to share their tips and experiences. Where should we go next?
3,000+ Cat People Hosted at our Virtual Events
We've hosted fun, free educational virtual events since 2020 - including our annual Travel Cat Summit.
New York HQ & Warehouse
Our team is based in New York and we run our own warehouse in the Empire State as well. This means more control and quality when it comes to getting you your gear!
Meet Andie & Wilfie
Meet our rescued babies and product testers. Andie is a daddy's girl, and Wilfie is a mommy's boy.