Jackson Galaxy, Star of Animal Planet's "My Cat From Hell," Teams Up With Popular Pet Product Company – Your Cat Backpack – to Launch Exclusive New Carrier for Cats
"THE JACKSON GALAXY" CONVERTIBLE CAT BACKPACK CARRIER INCLUDES ALL-NEW FEATURES AND WILL DEBUT EXCLUSIVELY AT CAT CAMP IN NEW YORK JUNE 1-2 WIDELY AVAILABLE THIS JULY.
Make every trip an adventure with your cat! TV celebrity, New York Times best-selling author, and cat behavior and wellness expert Jackson Galaxy has partnered with Your Cat Backpack, a pet product company dedicated to nurturing the bond between humans and cats, to launch an exclusive Jackson Galaxy-branded convertible carrier, tested and approved by Galaxy himself.
"The Jackson Galaxy" Convertible Cat Backpack is an upgraded version of the original "The Fat Cat" backpack design, adding all new features to the already incredibly popular carrier amongst pet parents. The product can now be used as a backpack or a traditional carrier with a detachable shoulder strap, and includes a removable comfortable mat that fits when used either way.
A limited amount of "The Jackson Galaxy" backpacks will be available for purchase at Jackson Galaxy's annual Cat Camp in New York, taking place June 1-2. The backpack is also now available for pre-order and slated to ship in July. Cat guardians all around the world use the cat backpack for everyday activities, from trips to the vet to hikes at the park, making it a leader and must-have accessory in the adventure cat movement.
For more information, visit YourCatBackPack.com or check out photos of cat parents with their carriers on Instagram at @YourCatBackpack.

"The Jackson Galaxy" Convertible Cat Backpack is available at a discounted price of $139.99 for a limited time only.


About Jackson Galaxy
Popularly known as "The Cat Daddy," Jackson Galaxy is the host and executive producer of Animal Planet's long-running hit show "My Cat From Hell." Jackson, an animal advocate and cat behavior and wellness expert, is also a two-time New York Times best-selling author with more than 25 years of experience working with cats and their guardians. He is on a mission to educate people about cats and deepen the human and cat bond while reducing the number of animals that end up in shelters. He is also the founder of The Jackson Galaxy Project, a Signature Program of GreaterGood.org, a public 501(c)(3) nonprofit organization, that seeks to improve the lives of animals at risk and help the people who care for them through innovative programs that educate, inspire and empower staff, rescuers and adopters to continually raise the bar for  animals at risk and reduce the number of animals that end up in shelters.

About Your Cat Backpack
Your Cat Backpack is a pet product business dedicated to nurturing and enhancing the relationship humans have with their cats. Its best-selling cat backpack carrier, "The Fat Cat" holds over 20 pounds of cat, the most weight of any cat backpack on the market. More information can be found at YourCatBackpack.com and on social media (Instagram: @yourcatbackpack; Twitter: @yourcatbackpack; Facebook: /yourcatbackpack).

About Jackson Galaxy's Cat Camp
Jackson Galaxy's Cat Camp, taking place June 1-2 in New York, is a weekend-long adventure all about exploring and celebrating your love for cats. The immersive experience with a summer camp-like atmosphere will include a cat cafe, cat yoga, speakers, arts & crafts, adoptable cats, workshops and more! Cat Camp is about celebrating cats, connecting with the cat community, and cultivating advocacy.
Your Cat Backpack Contact:
Ian Berk: info@yourcatbackpack.com
Jackson Galaxy & Cat Camp Contact:
Courtney Dolliver: courtney@cc-pr.co
---
Check out our launch post and giveaway here.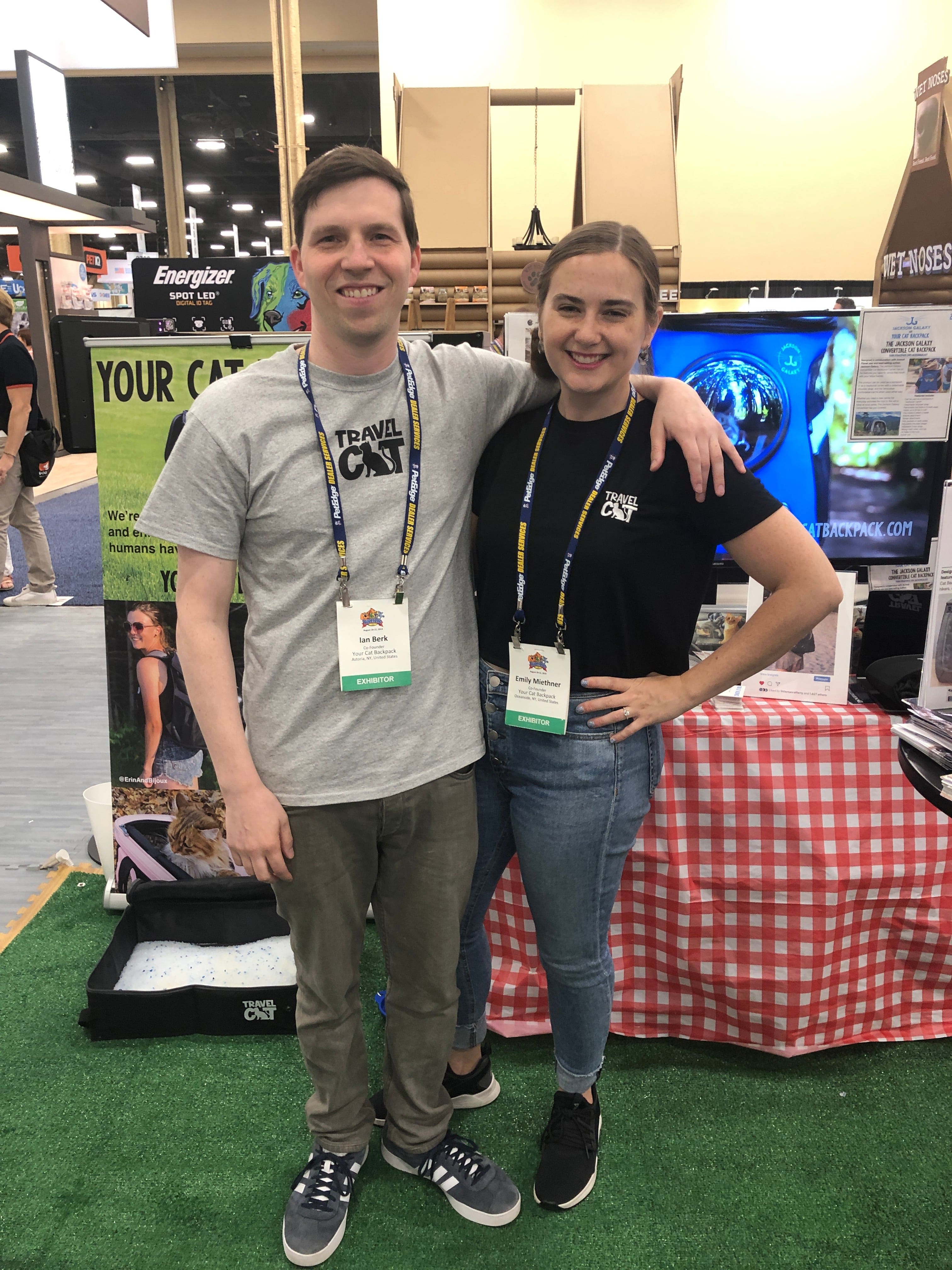 Family & Woman-Owned
Travel Cat was founded by me, Emily, and my husband, Ian. We've been together 14+ years and married 4+ years. We've both always been entrepreneurs - Travel Cat is our first business founded and run together.
Carried in 500+ Pet Stores Across the World
Let your local pet stores know they can carry our products. We love supporting other small business with our gear.
Meet us at IRL Cat Events
We love meeting you in-person and have attended tons of cat shows and events, oftentimes bringing panels of our catsomers to share their tips and experiences. Where should we go next?
3,000+ Cat People Hosted at our Virtual Events
We've hosted fun, free educational virtual events since 2020 - including our annual Travel Cat Summit.
New York HQ & Warehouse
Our team is based in New York and we run our own warehouse in the Empire State as well. This means more control and quality when it comes to getting you your gear!
Meet Andie & Wilfie
Meet our rescued babies and product testers. Andie is a daddy's girl, and Wilfie is a mommy's boy.