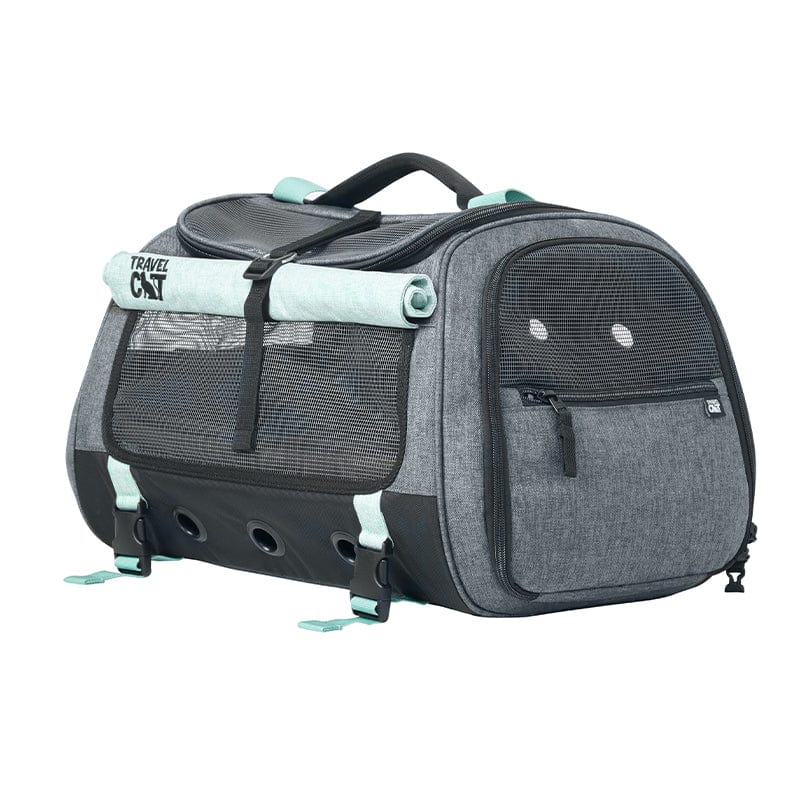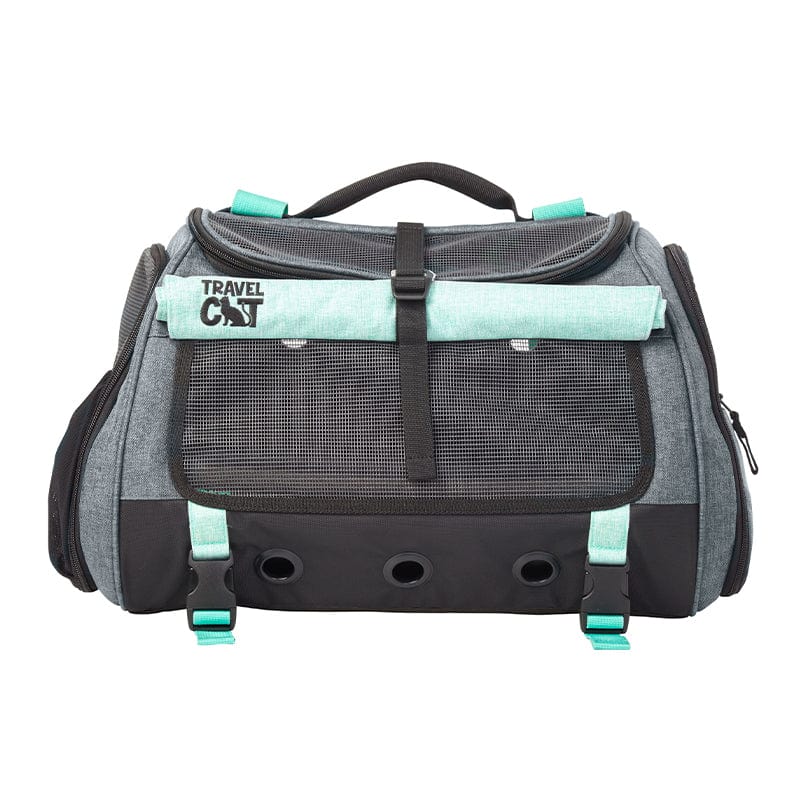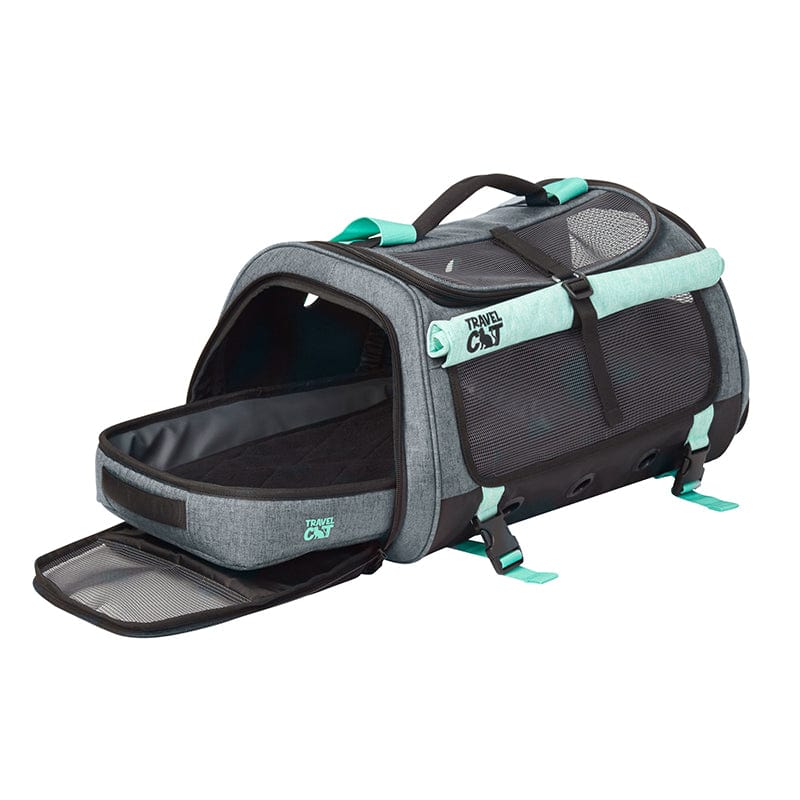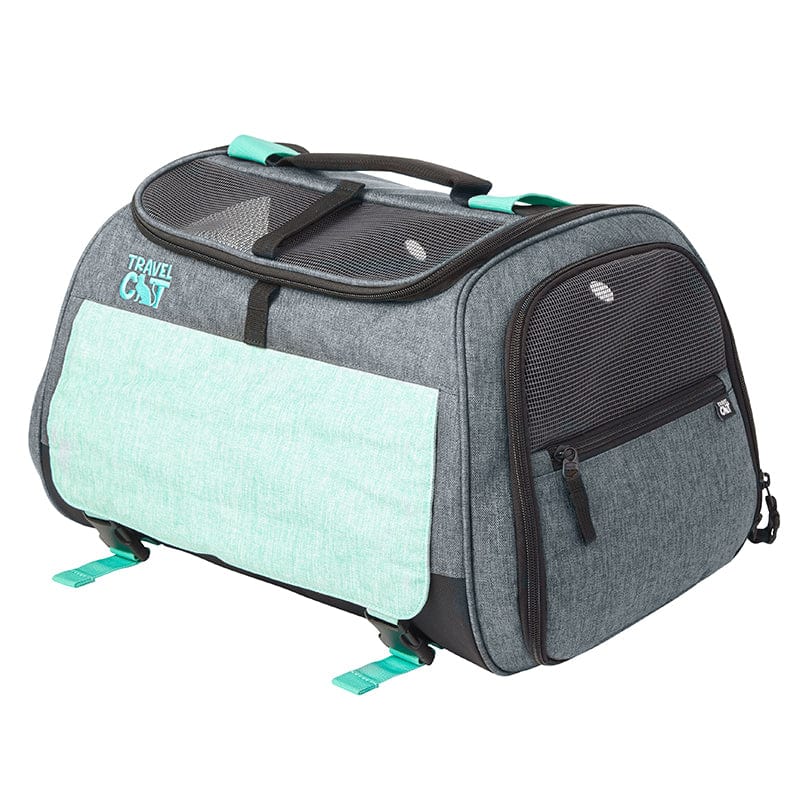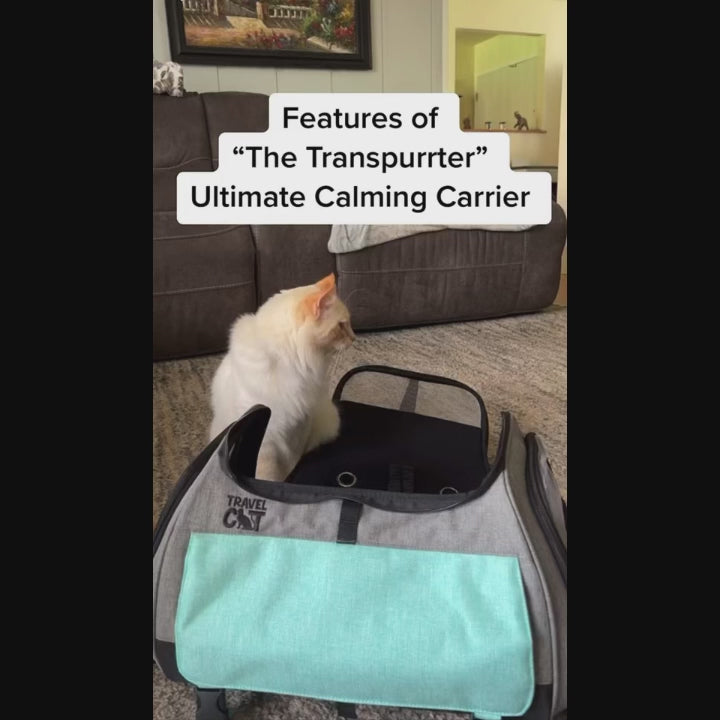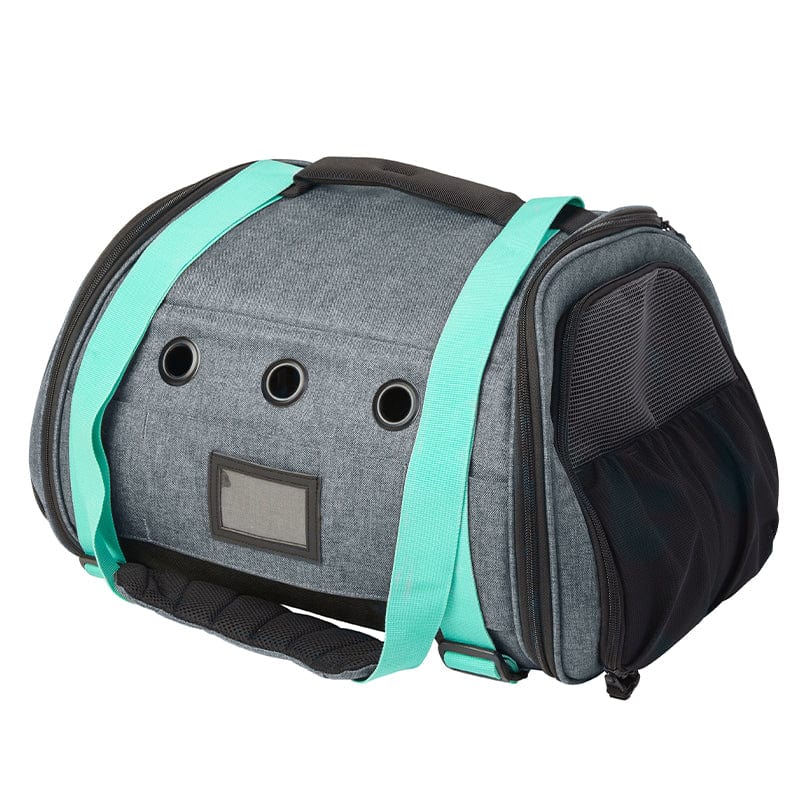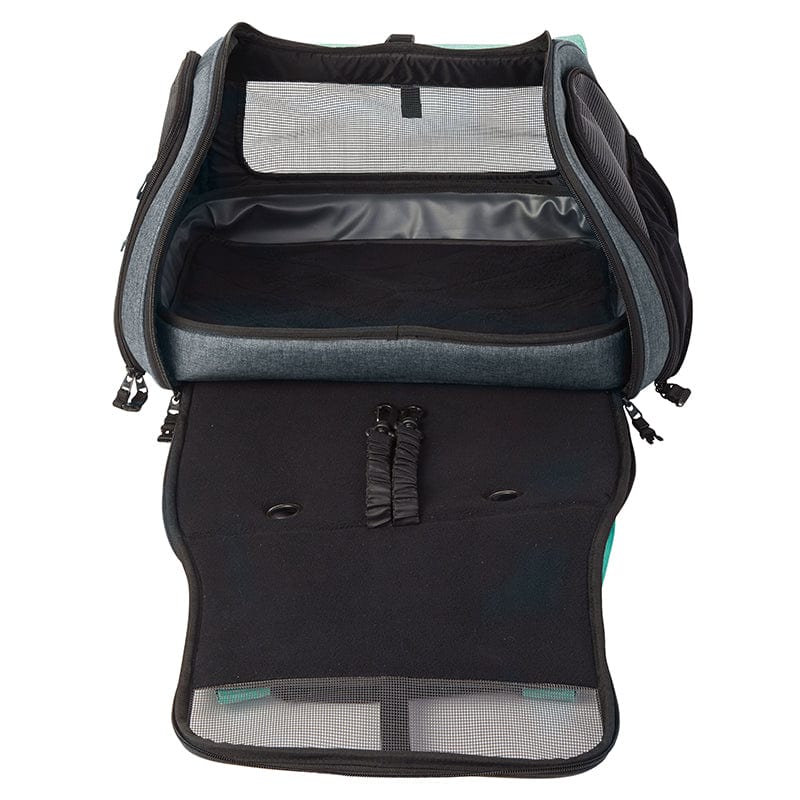 "The Transpurrter" Ultimate Calming Convertible Cat Carrier in Heather Grey and Teal
Sale price

$370.00
Regular price
(/)
A safe, durable, and comfortable cat carrier for everything from trips to the vet to hikes in the park.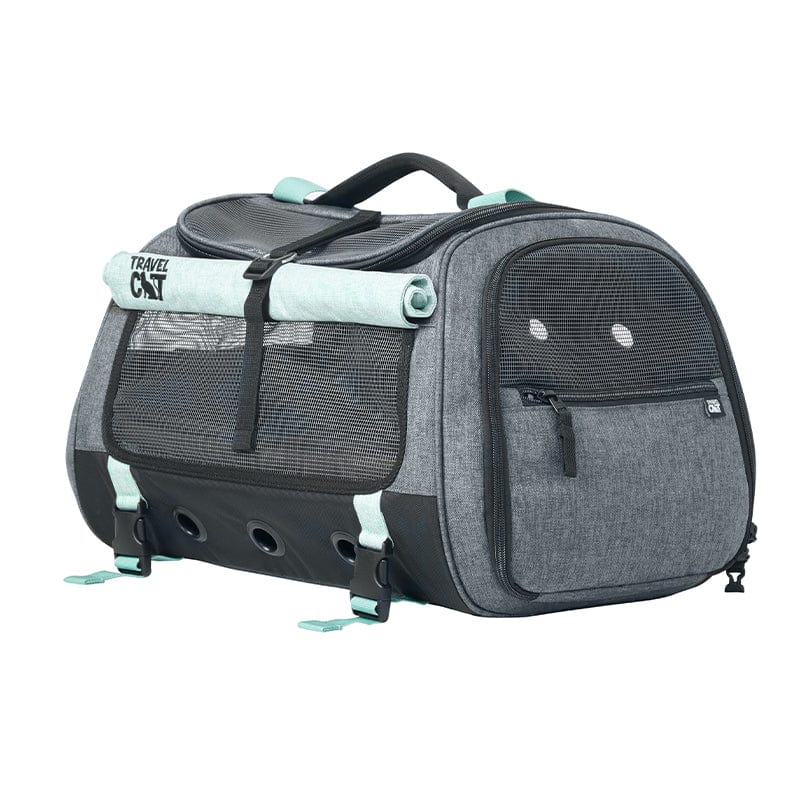 "The Transpurrter" Ultimate Calming Convertible Cat Carrier in Heather Grey and Teal
Sale price

$370.00
Regular price
Choose options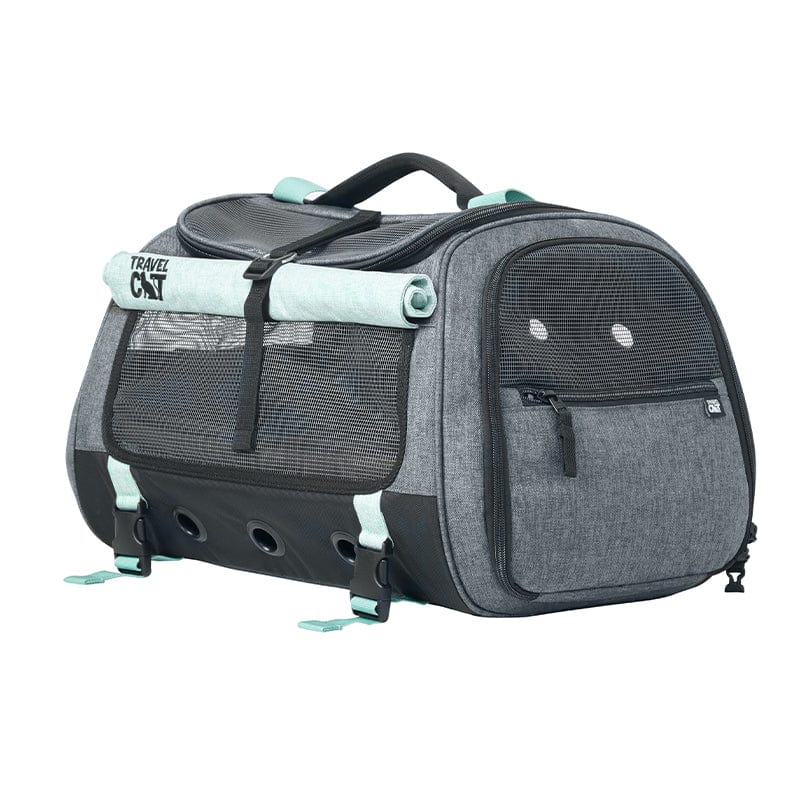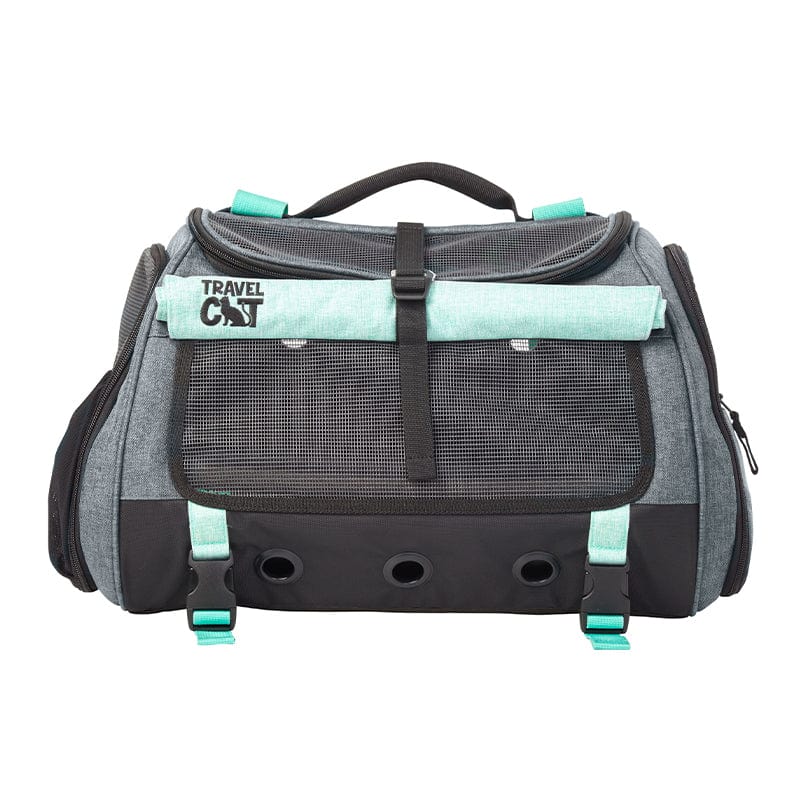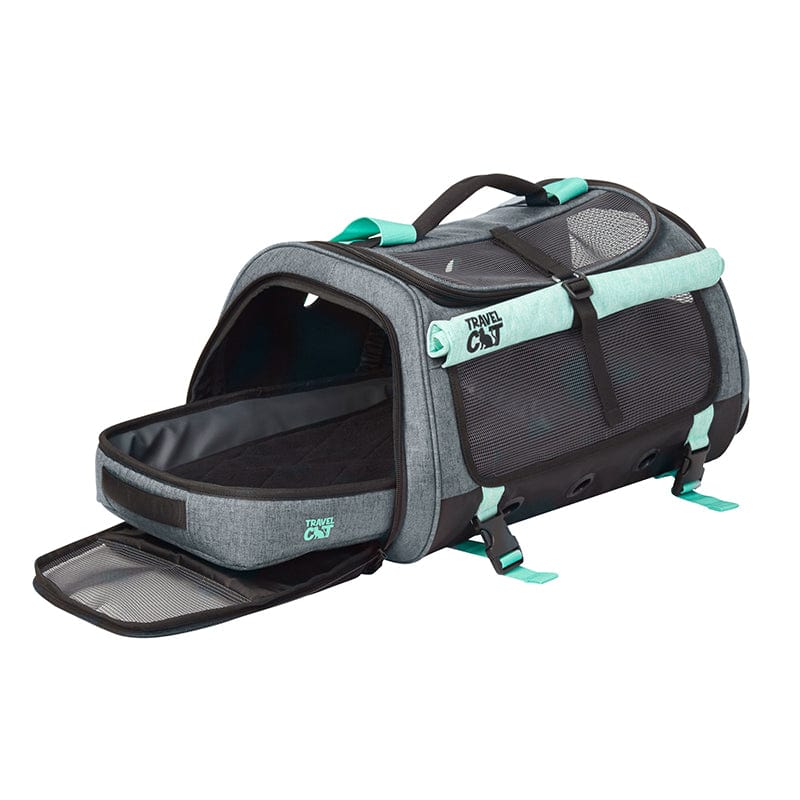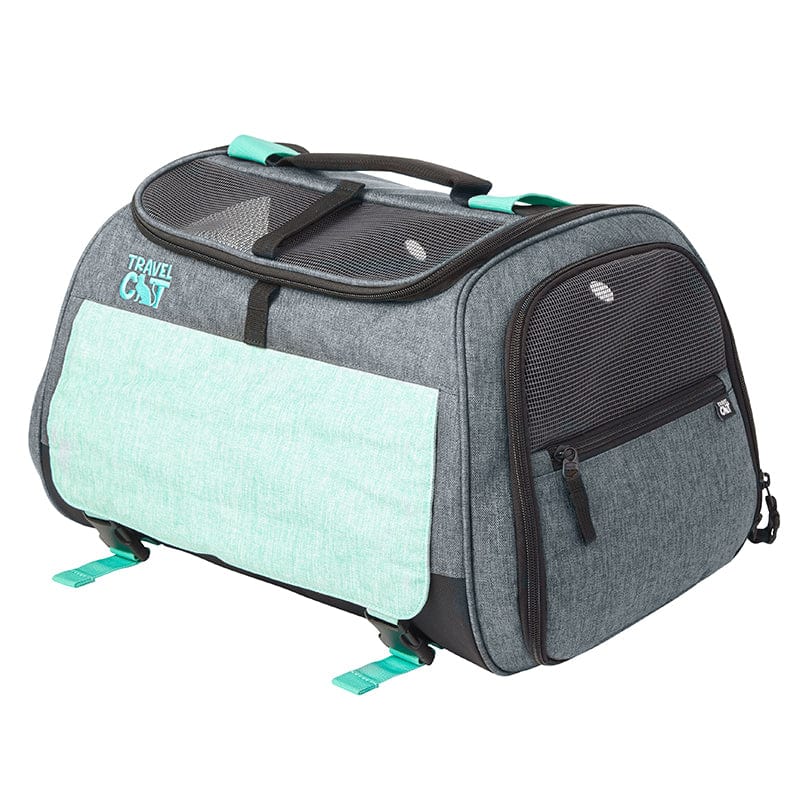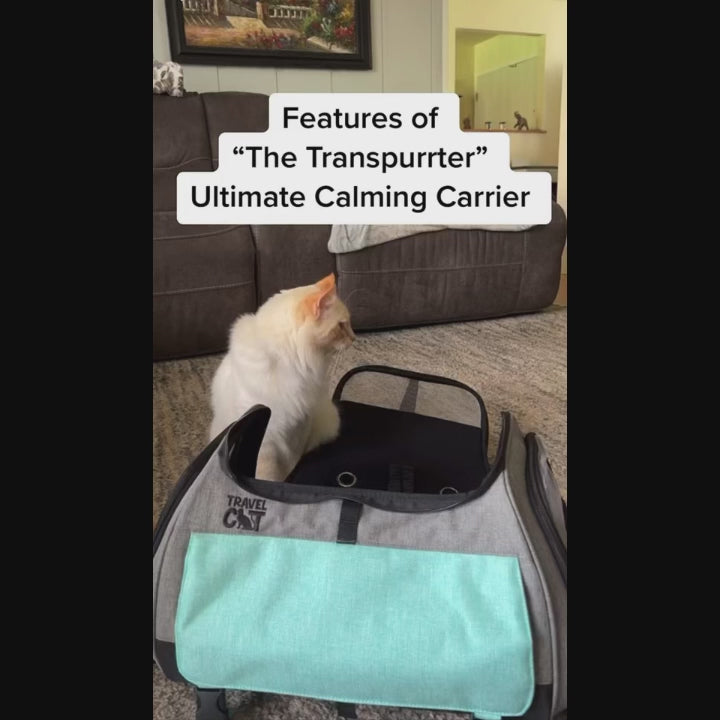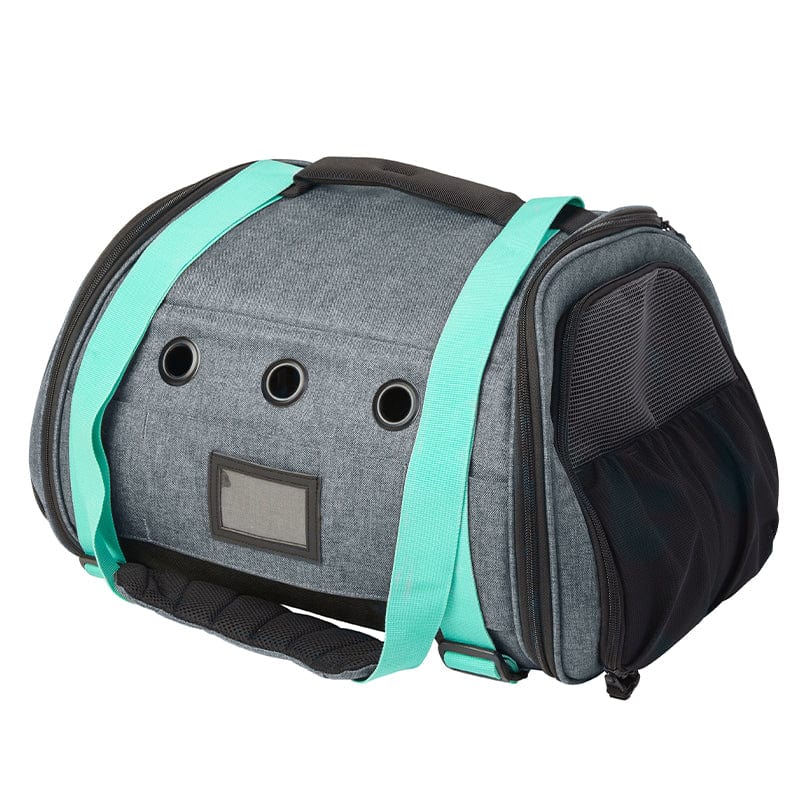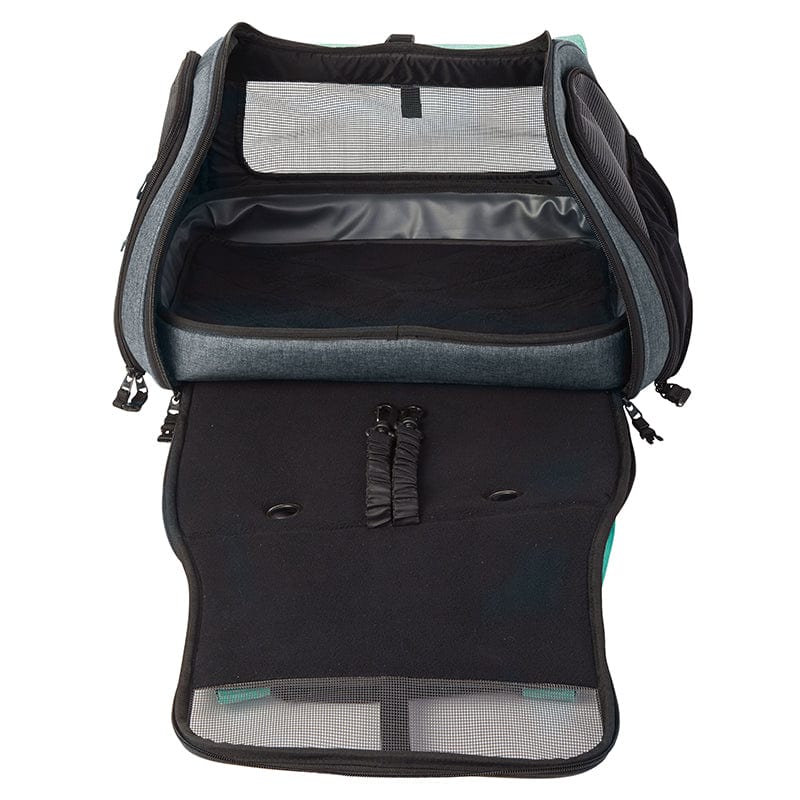 This cat carrier has it ALL. Designed with cat parent's convenience & kitty's safety as a top priority, this is the cat carrier that will go with you everywhere - plane, train, automobile, you name it.
It can be comfortably carried five ways - with the handle on top, as a backpack, with a long shoulder strap on the side or cross-body, or on top of a suitcase with the built in safety strap to keep it snug & in place while you're breezing through the airport. Stash your ID & other documents with our multi-pocket zipper pouch, for easy access when you're on the go.
With multiple entry ways through the top, both sides, and a slide out mat insert, this is the most versatile carrier for getting your kitty in or out, and quickly getting to your cat in a stressful situation. The slide out insert is also seamless, so you can easily wipe clean & throw the fleece mat (removing the plastic insert) in the wash if an accident happens.
If you travel with your kitty frequently & need a carrier that fits into your busy lifestyle, this is the purrfect one for you.
Features Include:
Holds up to 30 lbs
Airline - friendly size
Converts from traditional carrier to backpack with adjustable shoulder strap that turns into two backpack straps
Washable fleece mat insert with a tray that slides out for easy access to your kitty
Dark interior to block out stimulation & roll-up panel to cover front mesh window for extra coziness
Side pockets on both sides, large zipper pouch with multiple pockets & a keyholder.
Easy to clean bed with seamless lining & machine washable mat.
Plenty of ventilation throughout with mesh paneling or air holes on all sides
Zippers snap closed to keep in place so your cat can't paw them open
Buckles to strap into car seatbelt
Sleeve to slip over luggage handle
Multiple entry-ways for easy access
Leash clip to keep your cat safe & within arm's reach
Sleeve for contact info
Height - 10.5in (26.7cm)
Length - 19in (48.3cm)
Width - 11in (28cm)
Weight of Bag Itself:
3.4 LBS (1.5 KG)
All orders ship with love from our warehouse in New York. Orders are fulfilled within 1-5 business days. U.S. orders usually arrive in 3-5 business days depending on your location.
International orders orders also ship from our New York warehouse. For international shipping information, please see our international FAQs.
Wish I had gotten this carrier sooner
My cat Norman really isn't an adventure cat. He only leaves the house to go to the vet but I want to make that as comfortable and stress free for him as possible. I saw Travel Cat carriers years ago but opted for a cheaper knock off. Recently used this carrier to take Norman to the vet and he was remarkably calm for the ride. He usually cries a lot during the trip, but this carrier is more secluded than his previous ones. It has windows that he can see out of but not too much. His previous carrier had too many mesh windows and I think seeing cars and the outside freaked him out. With this one its more dark and with less windows he can have more privacy and stay calm. It was also important to me that the carrier had seatbelt buckles and this one does. He weighs 17 pounds and its big enough for him to move around and be comfortable. I'm really glad I finally purchased this carrier.
Best decision we made
We recently relocated internationally for the second time with our cats, and this carrier was a game changer. The cats really seemed to be calmer and more comfortable than in the similarly sized Sherpa carrier. The locking zippers gave you just enough room to get part of your hand in for a calming pet or to give a treat when needed. The mesh is indestructible- and it was definitely put to the test. We also found it incredibly easy to get the cats into the carrier by sliding the bed out a bit, placing our cats head part way in and then sliding the bed the full way in. Even our airport security person commented on what a breeze it was compared to what she usually sees. The different ways to carry, including the luggage strap came in handy at different parts of our journey, and we loved the extra safety of being able to buckle them into the car when we needed to drive. It does push the dimensions of what's allowed on some international airlines, but we didn't have a problem with it being allowed or fitting under the seat comfortably. Highly recommended by humans and cats alike!
Transpurrter
This is a sturdy bag. I won't say that my cat loves it because she is a scare-dy cat and claustrophobic, but her frantic efforts to show me her terror or scratch her way out did not succeed. We got to the vet and back in the middle of a hail storm. She was so scared to be at the vets, that the Transpurrter became her safe spot. Go figure! This portable, indestructible, comfortable cat bag is a great alternative to getting your precious feline wherever they need to go.
Cat Travel Bag
I'm loving the cat travel bag along and took my baby boy to the vet for his yearly exam in it and didn't have a problem putting in Tom. I used the strap over my shoulder and it made easier.
Thankful for this product
My cat Pepper is a big boned baby. I try to expose to her to car rides so any sort of future travels don't cause her great anxiety. This product helped when I had to take her the vet.