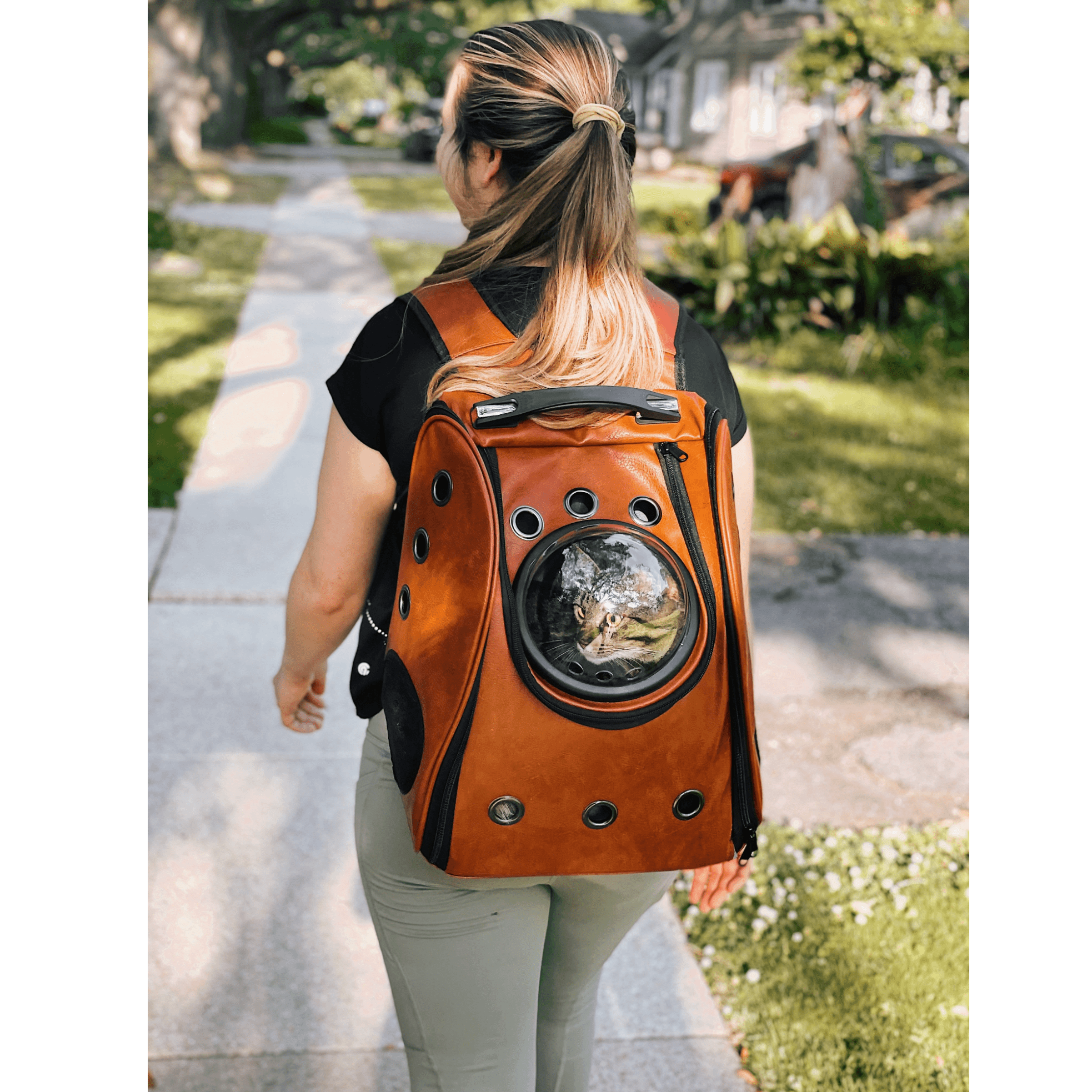 "The City Chic" Cat Backpack
Sale price

$185.00
Regular price

$205.00
(/)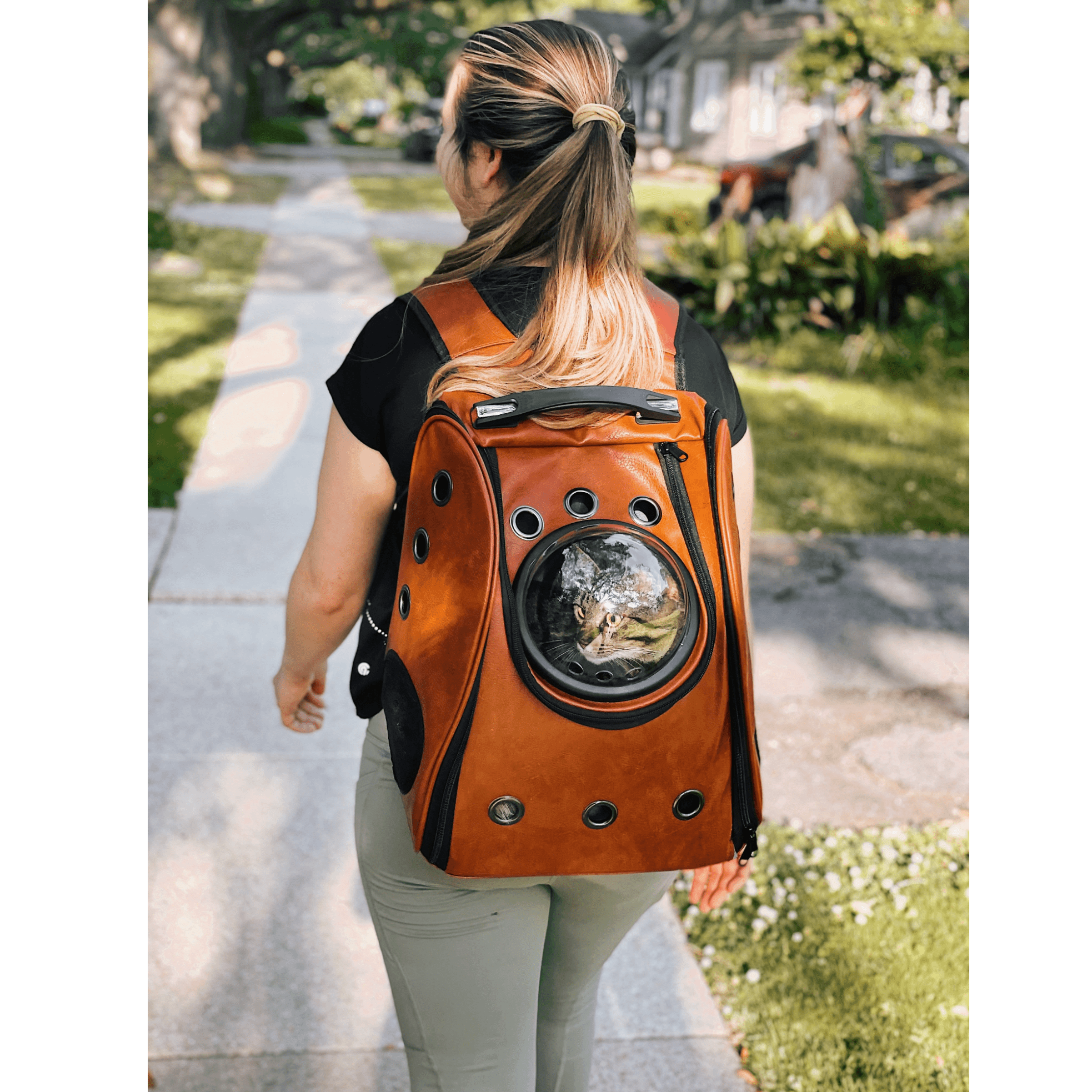 "The City Chic" Cat Backpack
Sale price

$185.00
Regular price

$205.00
Choose options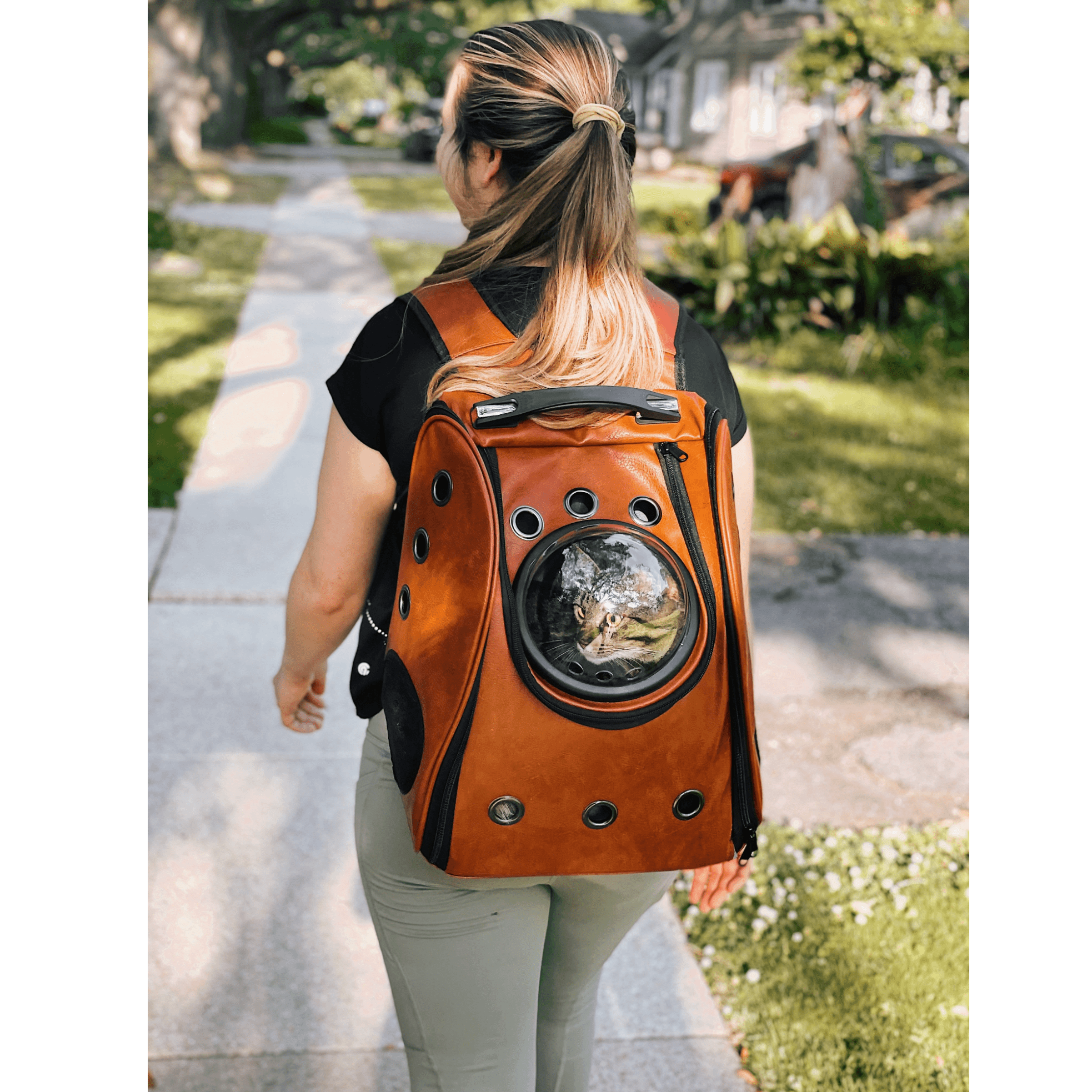 Your fabulous feline will look like a red carpet meowdel in this stylish cat bubble backpack carrier! Whether you're pounding the pavement of a big city, going from place to place in a small town, or flying on an airplane like Taylor Swift, your cat will be cozy and cool in the sturdy cat backpack.

Features of "The City Chic" Faux Leather Style Cat Backpack include:
Both the plastic bubble window and flat screen attachments for the front of the cat backpack. They lock in securely and can be switched at your leisure, or removed completely.
A clip and bungee that attaches to your cat's harness, allowing them to safely "hang out" of the backpack's front, without risk of them unexpectedly jumping out!
Air holes in the front and sides provide ventilation. Bonus: they are a great way to slip your kitty treats!
Adjustable straps that allow you to fit the backpack perfectly to your body.
A strong top handle that gives you the option to carry the cat backpack like a purse.
A soft plush mat that sits at the base of the cat backpack. It's removable, making it easier to clean!
Many of our cat backpack styles are airline-approved. It depends on the airline. Learn more about that here.
Maximum Weight: 11lbs, 5kg
Dimensions: 12.5 x 8.6 x 15.7 IN || 32 x 22 x 40 CM
All orders ship with love from our warehouse in New York. Orders are fulfilled within 4-5 business days. U.S. orders usually arrive in 3-5 business days depending on your location. Because of COVID-19 it may take up to 5-7 business days.
International orders orders also ship from our New York warehouse. For international shipping information, please see our international FAQs.
Thank you for letting my indoor kitty see his city!
I live in Portland, Oregon and have been wanting to take my cat outside with me on walks and hikes since I got him a year ago. I received this backpack for Christmas and we have already gone on two walks together and he loves it!! I was skeptical about if he would enjoy it because he's quite a shy cat, but he seems to feel very relaxed and safe inside the backpack. He lies down very comfortably and enjoys mostly looking out the side windows. I leave the backpack out during the day and he even goes and sits in it periodically so I know he's ready for more! Thank you so much for letting us explore together!
"The City Chic" Cat Backpack
"The City Chic" Cat Backpack
So stylish!
This backpack is just too cute! We love the look of it and it's super lightweight, yet still sturdy and durable! People have often stopped us and commented on how cute this backpack (as well as our "fat cat backpack") is. Our cats jump into the backpacks to tell us when they want to go outside, and whenever one of them gets spooked on our walks, they'll immediately jump into the backpacks since they find it as their safe space :) so cute! Also, within one hour of purchasing this backpack, we got the notification that it was shipped and we received it so quickly! We love this small business :)
Our "grandcat" loves it.
My son's cat hated a crate to go to the vet. He started using the backpack for walks and now can't keep his cat out of it. The cat finally made it to the vet!