Meet The Jackson Galaxy Convertible Cat Backpack Carrier and Launch Giveaway Celebration!
We're thrilled to announce that Your Cat Backpack has partnered with TV celebrity, New York Times best-selling author, and cat behavior and wellness expert Jackson Galaxy, to launch an exclusive Jackson Galaxy-branded convertible carrier, designed in collaboration with Jackson Galaxy himself.
The Jackson Galaxy Convertible Cat Backpack is an upgraded version of the original "The Fat Cat" backpack design, adding all new features to the already incredibly popular carrier amongst pet parents. The product can now be used as a backpack or a traditional carrier with a detachable shoulder strap and includes a removable comfortable mat that fits when used either way.
Before they are available anywhere else, a very limited number of The Jackson Galaxy backpacks will be available for purchase at Jackson Galaxy's annual Cat Camp in New York on June 1-2. Those who purchase on-site will have the chance to get an autographed backpack by Jackson himself and a free gift.
The Jackson Galaxy Convertible will ship in July.
Pre-order now to ensure you get one from our limited first run, as they will sell out! 
We're also running a sweepstakes — enter below for chances to win The Jackson Galaxy, plus tickets to Cat Camp NYC! 
Sweeps is now closed. Congrats to our winners: Laura,Naya,  Shannon, and Sneha!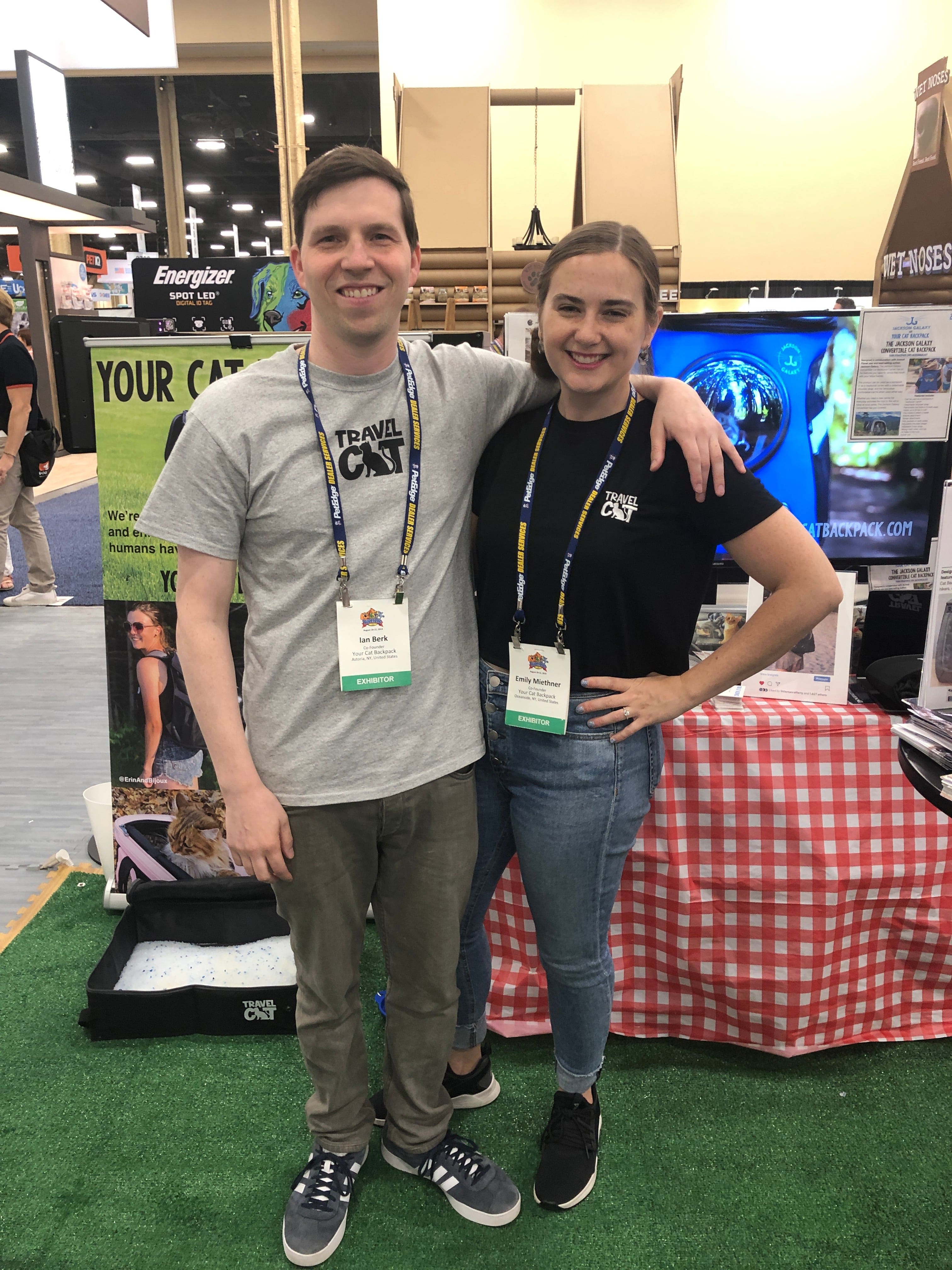 Family & Woman-Owned
Travel Cat was founded by me, Emily, and my husband, Ian. We've been together 14+ years and married 4+ years. We've both always been entrepreneurs - Travel Cat is our first business founded and run together.
Carried in 500+ Pet Stores Across the World
Let your local pet stores know they can carry our products. We love supporting other small business with our gear.
Meet us at IRL Cat Events
We love meeting you in-person and have attended tons of cat shows and events, oftentimes bringing panels of our catsomers to share their tips and experiences. Where should we go next?
3,000+ Cat People Hosted at our Virtual Events
We've hosted fun, free educational virtual events since 2020 - including our annual Travel Cat Summit.
New York HQ & Warehouse
Our team is based in New York and we run our own warehouse in the Empire State as well. This means more control and quality when it comes to getting you your gear!
Meet Andie & Wilfie
Meet our rescued babies and product testers. Andie is a daddy's girl, and Wilfie is a mommy's boy.