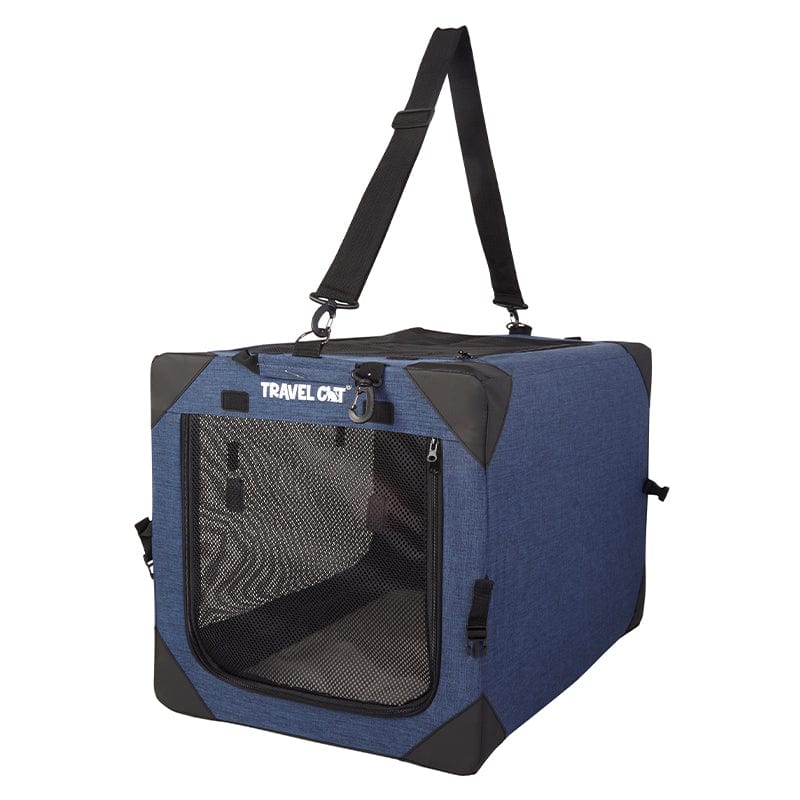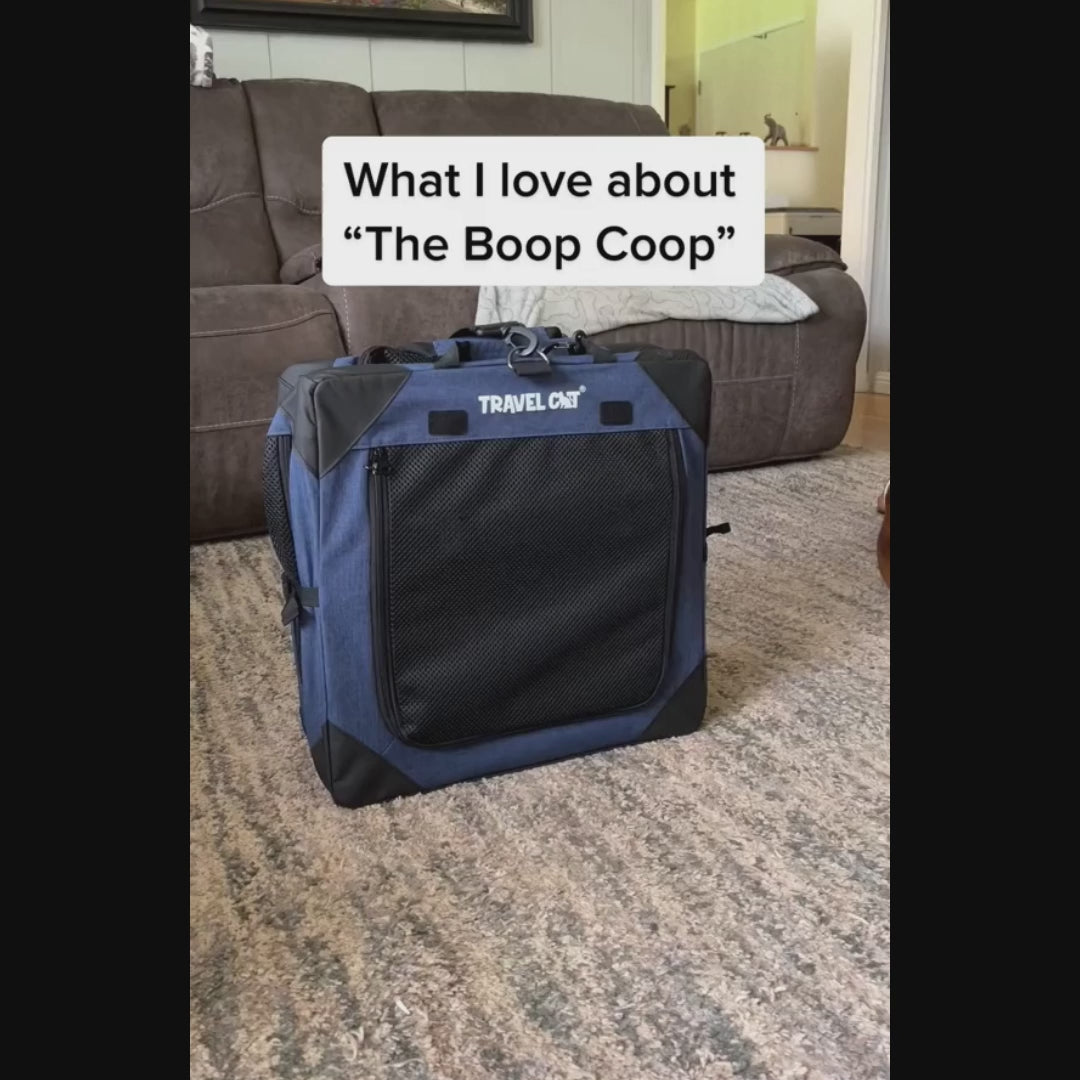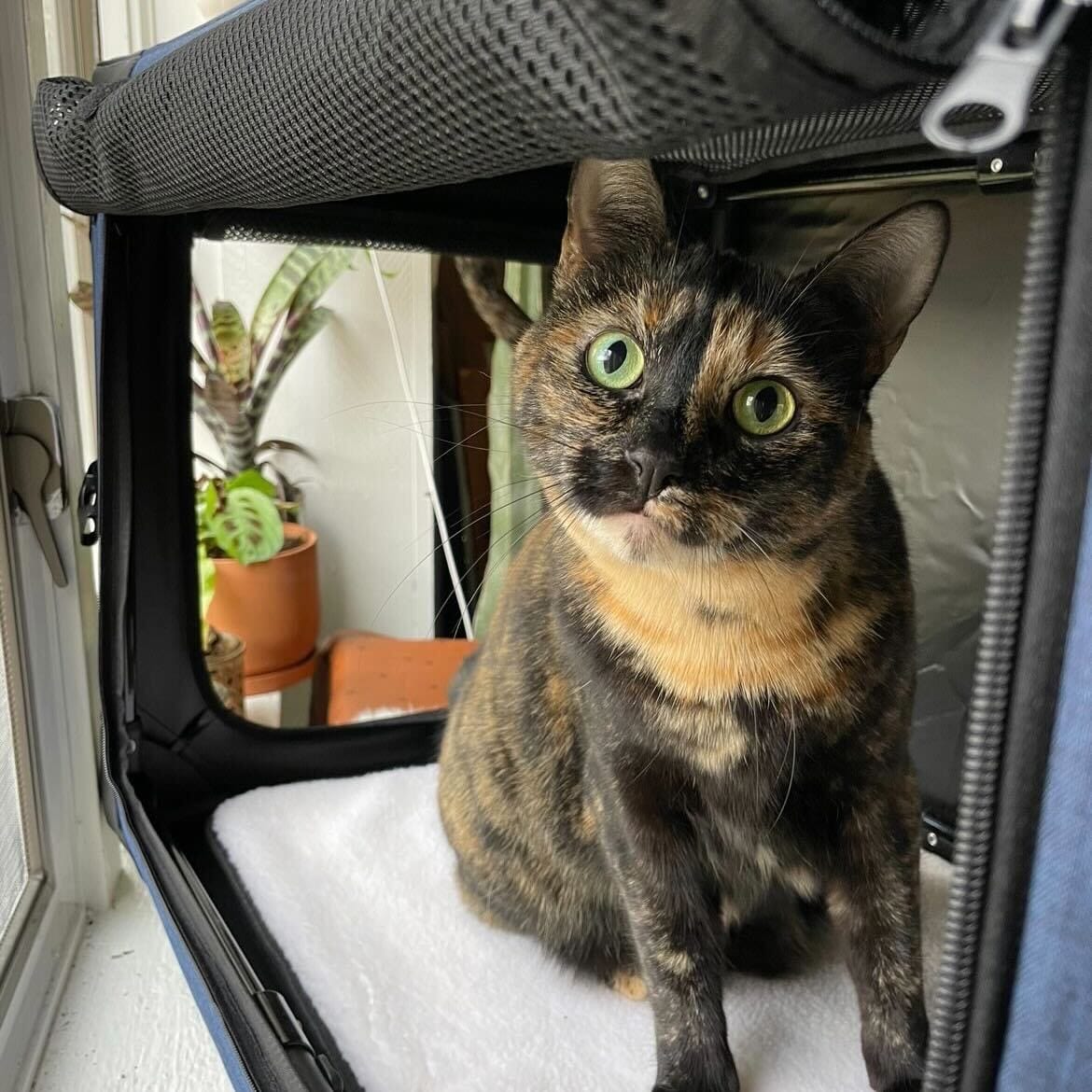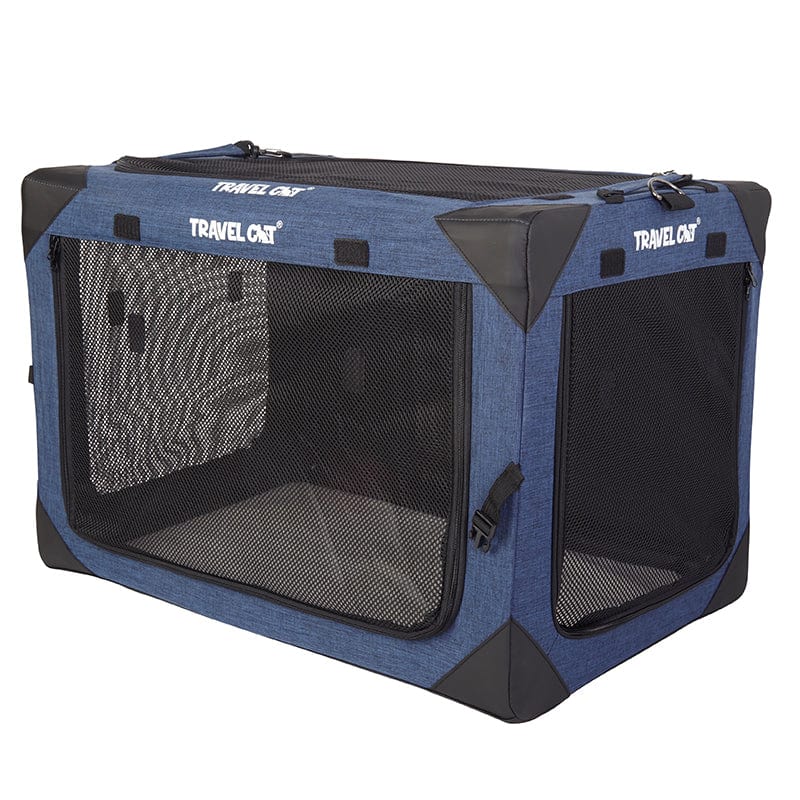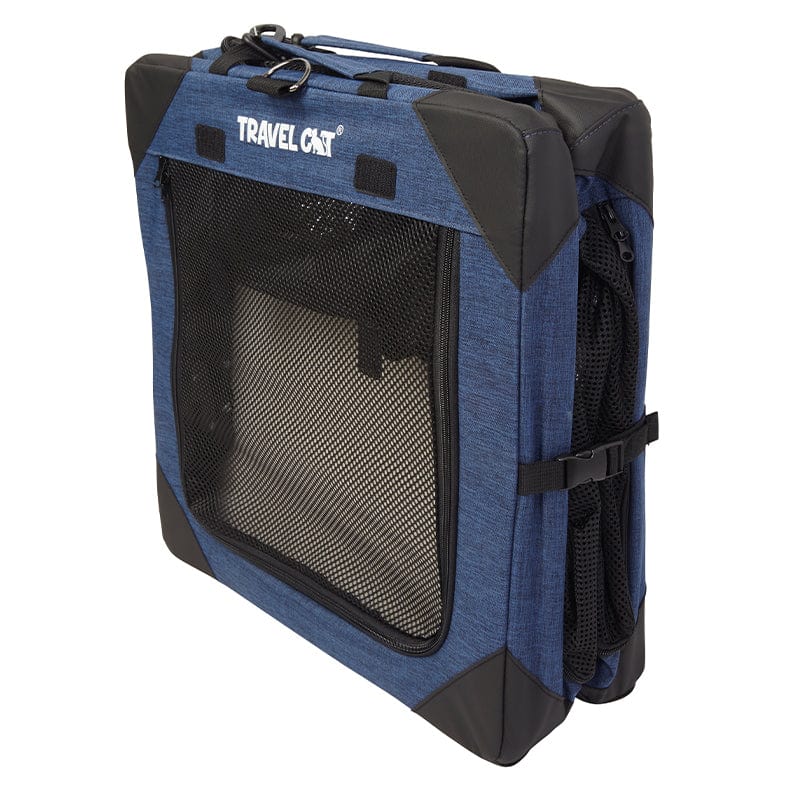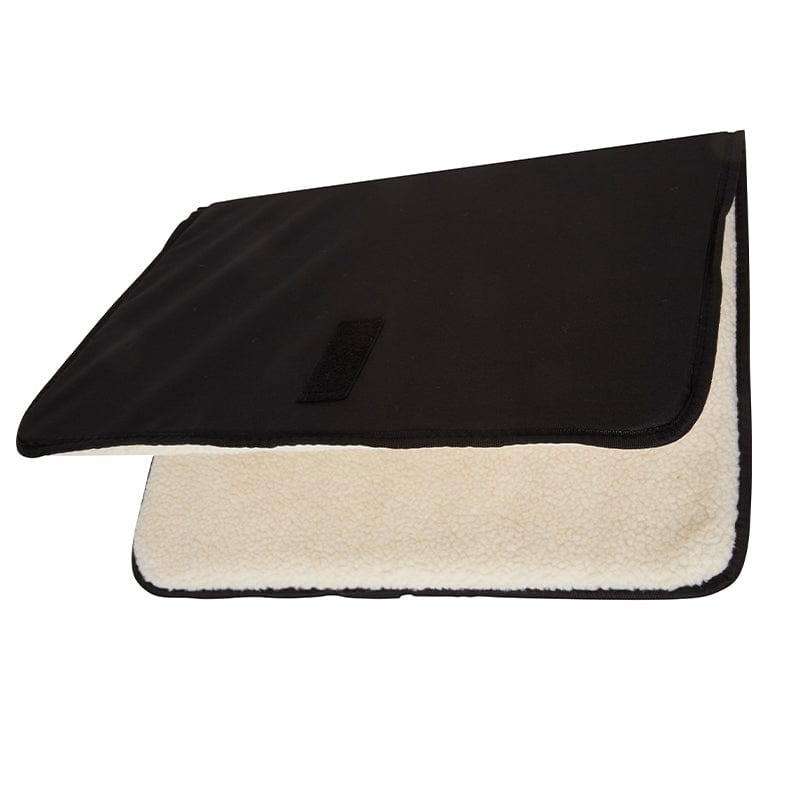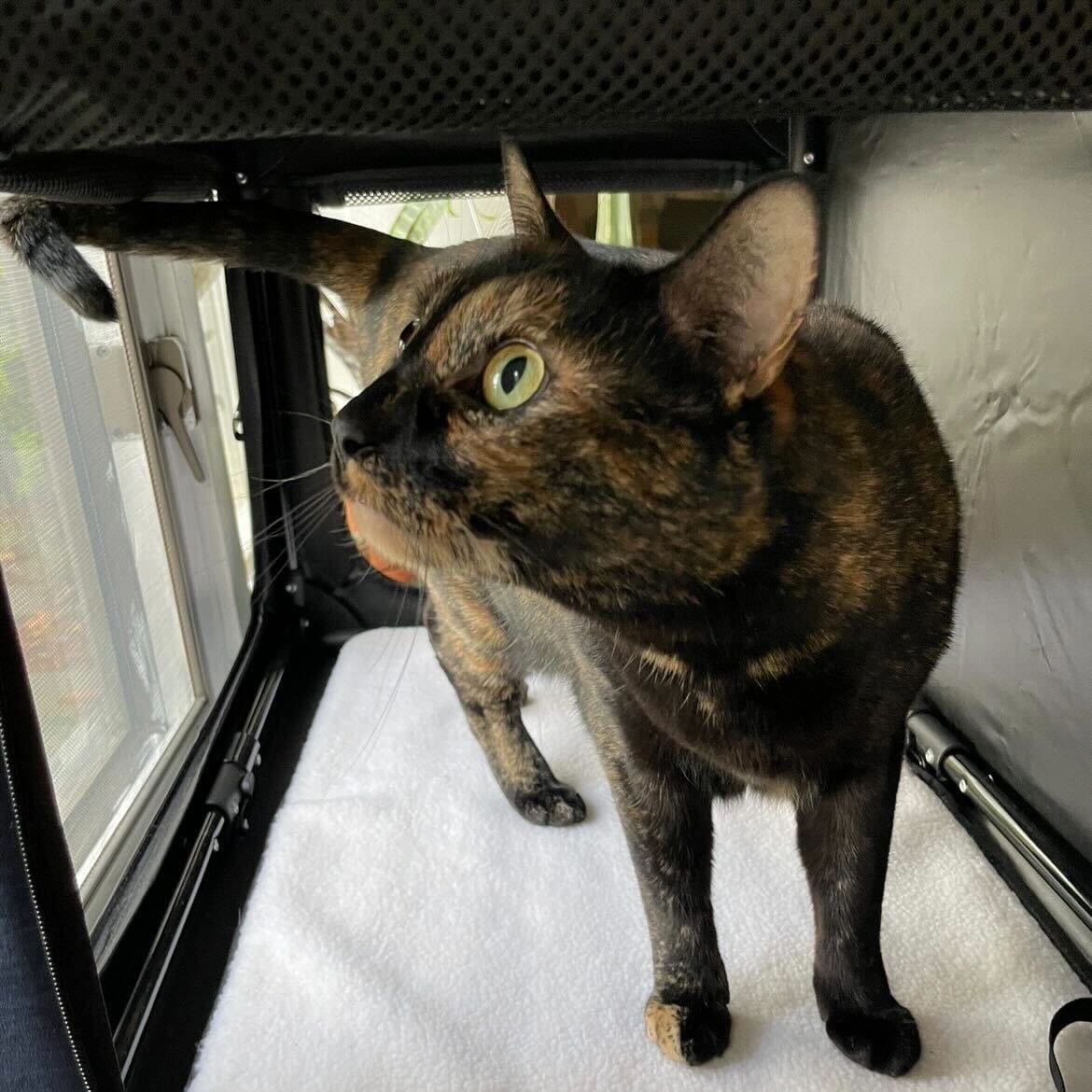 "The Boop Coop" Collapsible Travel Cat Crate & Carrier
Sale price

$240.00
Regular price

$260.00
(/)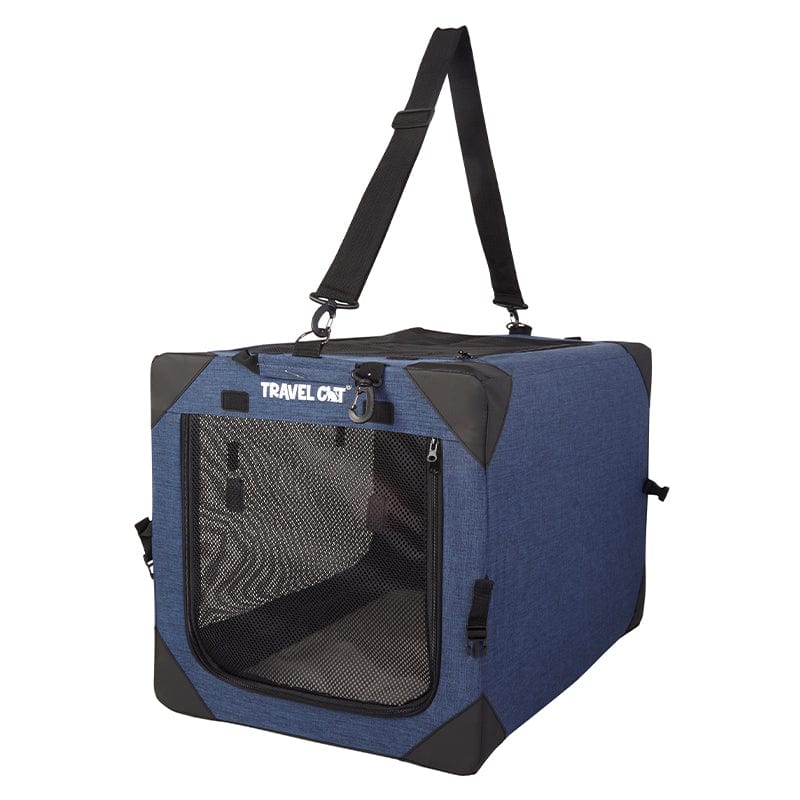 "The Boop Coop" Collapsible Travel Cat Crate & Carrier
Sale price

$240.00
Regular price

$260.00
Choose options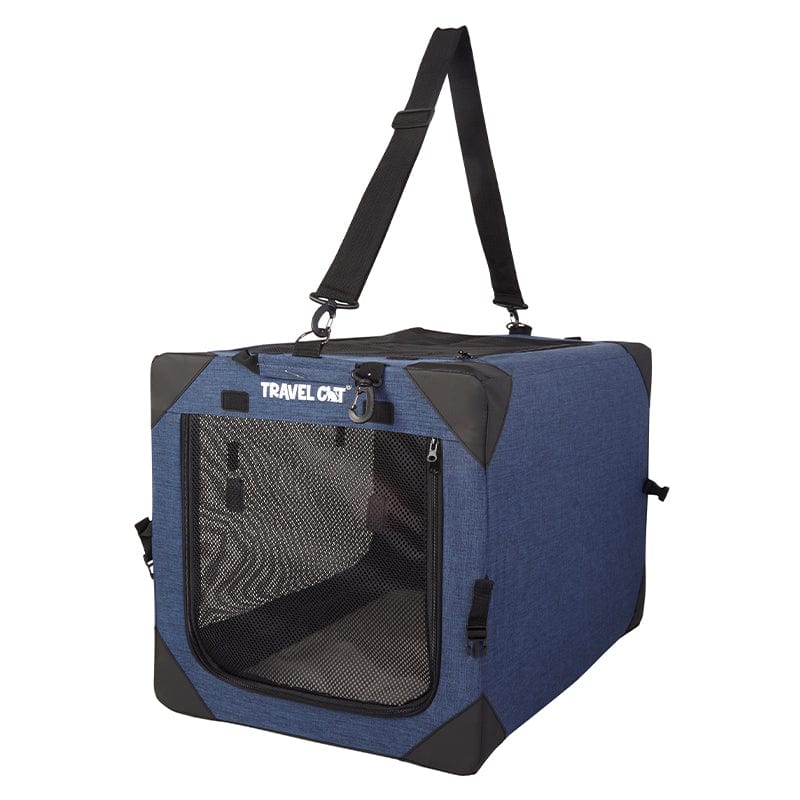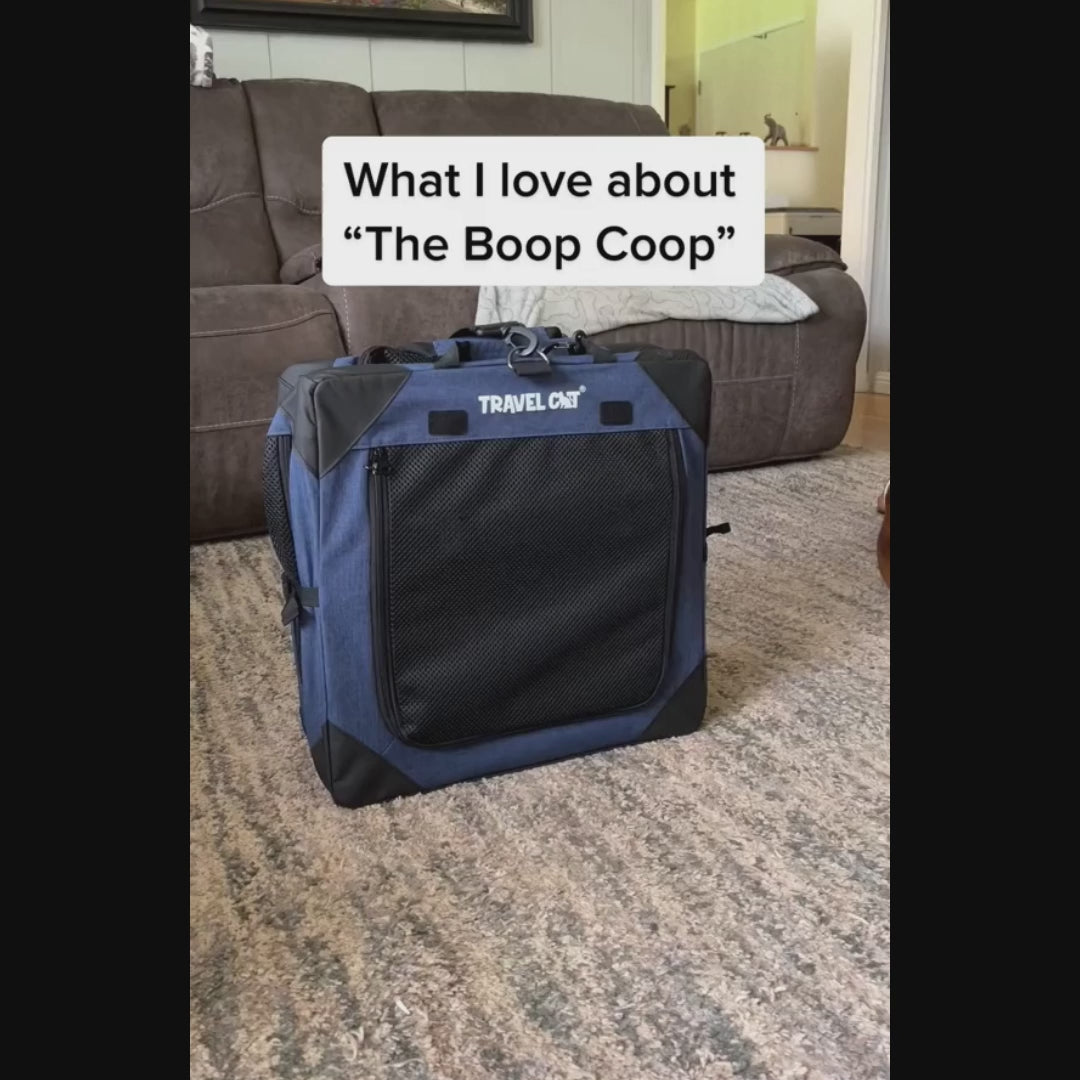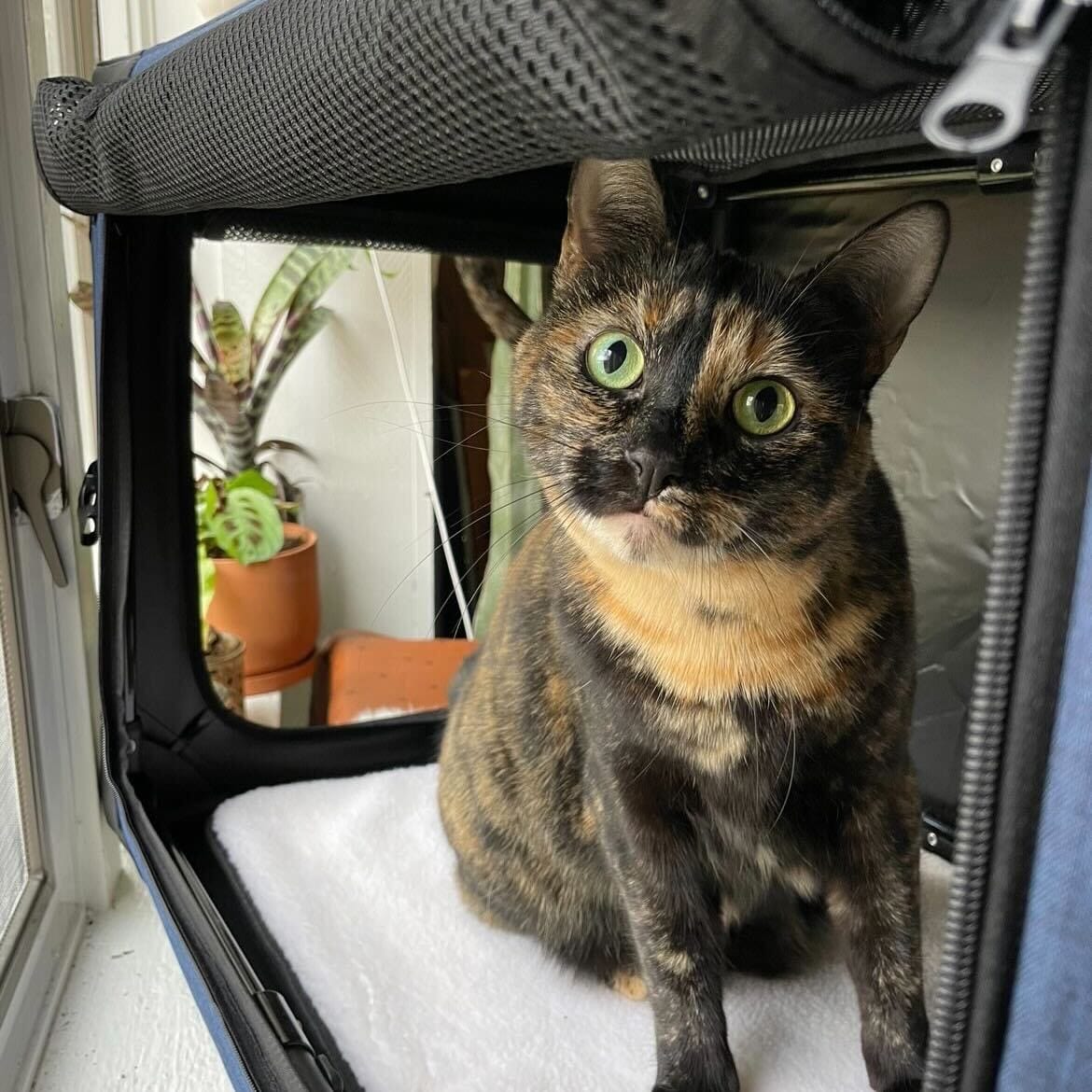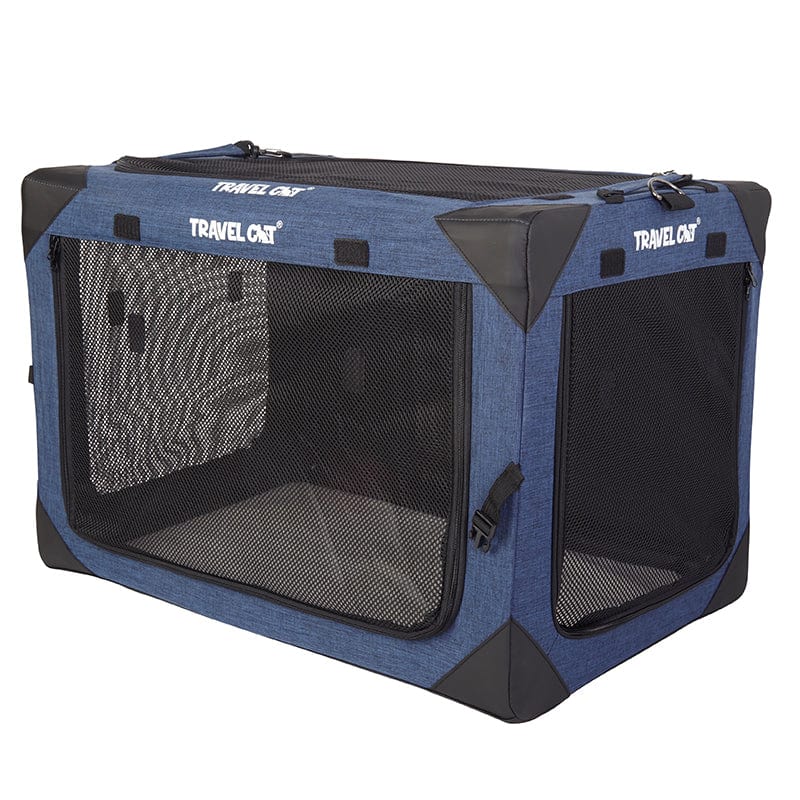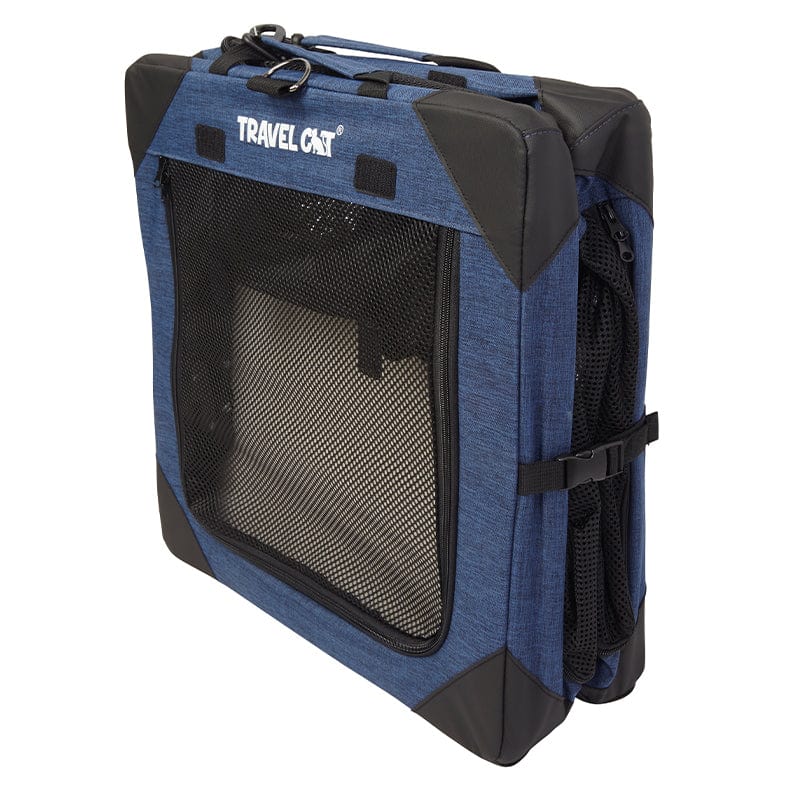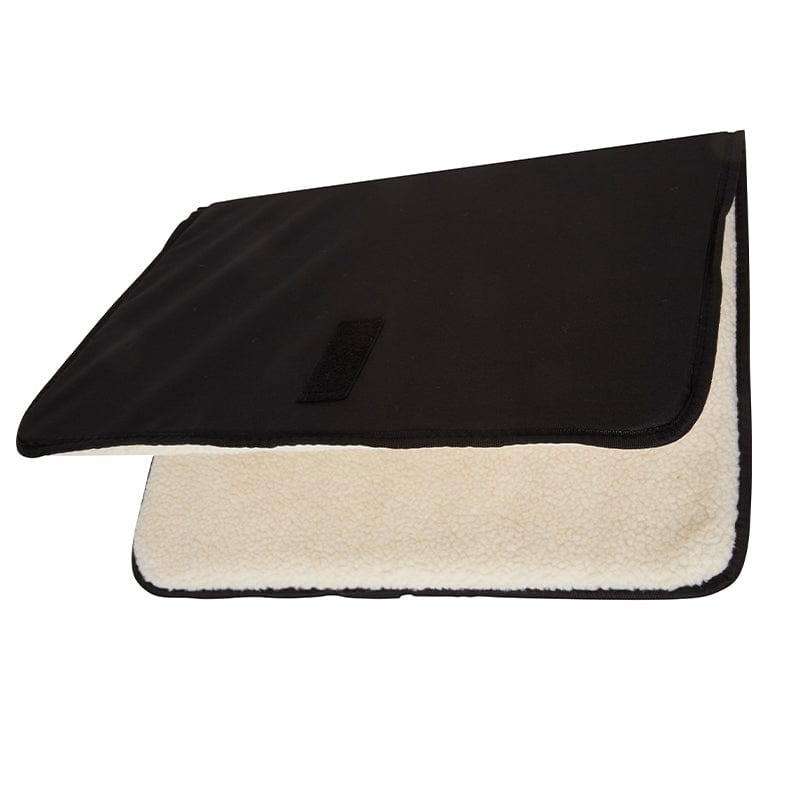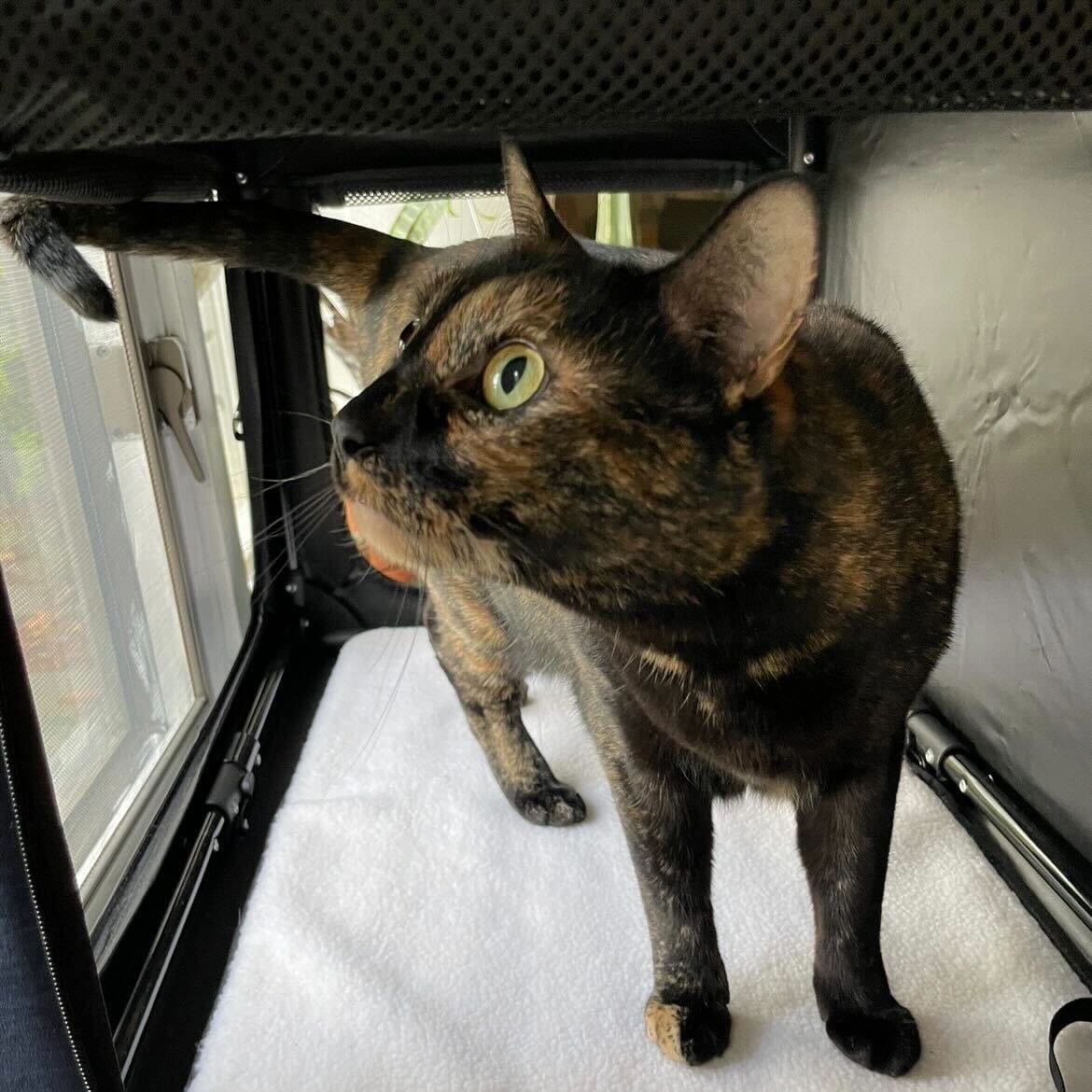 "The Boop Coop" Collapsible Travel Cat Crate & Carrier is a roomy, safe, and comfortable solution for all of your kitty's travel needs. It's simple to store and set up, making it the go-to travel crate for cat parents everywhere.
This one-of-a-kind cat carrier is purrfect for keeping your kitty enclosed on overnight stays at a hotel or friend's house where your kitty can't roam freely at night, or the best spot for napping and relaxing on long road trips.
Living the RV life with your cat in tow? "The Boop Coop" is a game changer. Give your kitty a safe place of their own while cruising around the country. It's also sturdy enough to put weight on top of, so you can pack your car or van with ease and help maximize space.
Use "The Boop Coop" for multiple cats, depending on the size of your cats (in most cases, can comfortably fit 3-4 kittens, 2-3 adults cats, or 1-2 large cats).
If using for 1-2 cats, there is plenty of space to set up "The Meowbile Home" Cat Bed, travel food bowls, and a toy or two! Give your kitty the ultimate Travel Cat experience and a boop or two for good measure, of course.
Uses Include (but not limited to, obv):
- Car rides
- Hotel stays
- Visits to parks
- Camping trips
- RV and Van life
- Beach trips
- Keeping out at home!
- Easily opens and closes - setup and and collapse down in seconds
- Takes up minimal space when stored
- Removable shoulder strap and handles for easy carrying options
- Sturdy and well ventilated
- 3 rolled up entry options, from the sides and the top
- Comfortable removable mat
- Adjustable clip to attach a harness or leash
- "The Meowbile Home" fits inside with room to spare
- Space for multiple cats, depending on the size of your cats (in most cases, can comfortably fit 3-4 kittens, 2-3 adults cats, or 1-2 large cats)
- Washable interior mat
Plush mat can be machine washed.
Materials: Oxford cloth, polyester fiber mesh, steel pipe . Note, the material is not waterproof.
Product Weight: 9.5 lbs / 4.2kg
Expanded Dimensions: 26*17.7*17.7in / 66*45*45cm
Collapsed Dimensions: 4.3*17.7*17.7in / 11*45*45cm
Note, the mesh doors are fabric. If your cat has a tendency to chew through things, this may not be the product for them.
Best cat purchase so far
I love the size of the Boop Coop and the fact that it folds up for storage. My cats use it as retreat in the living room when they want some piece, it's how they get around in the car and to the vet, and I hope to take them to the park in it so the can catch a breeze with the view. We love how spacious it is.
Great for traveling
Moved cross country with our two cats in comfort in the boop coop! The boys were able to get up and change position, get comfortable in the boop coop as we were riding down the highway. Highly recommend!
We love this carrier!
Our first official test with the boop coop was a 6 hour drive for vacation and our cat slept soundly the entire way! He had enough room to move around and spread out comfortably. Previous backpacks and carriers we've used have been too small for his liking and those trips were not nearly as enjoyable (for him or me!). I turned it perpendicular on the seat and looped the seatbelt through the small handle on top for security. Even when we aren't traveling, he loves to sleep and play in the coop coop. I cannot recommend this enough, money certainly well spent!!
Best carrier ever!
My boyfriend and I traveled 13 hours with our two cats and originally bought a different carrier for the car ride, after taking them for test runs in the first option we realized it wasn't going to work (they like to play with eachother and it would just collapse on them) we got the boop coop last minute and it was the best choice we could've made, so sturdy and PERFECT for 2 cats! I don't know how we would've made it on this trip without it! Best carrier hands down!
Big Boop Coop Fans!
Likes:
- Set up and take down is beyond easy
- Folds flat for storage to about 4 inches and has clips to hold carrier together when flat (fantastic for small spaces!)
- Clips to attach two leashes on inside of carrier with adjustable leads
- Large enough to hold several cats but still small enough to fit in the back seat of a sedan
- Has four wide-opening sides which makes getting kitties in/out effortless
- Tear resistant mesh material holds up well so far to regularly clipped kitty nails
- Several handles and attachable over-the-shoulder strap provides carrying options for solo or tandem carrying
- Constructed well with reinforced corners, rip-stop fabric, and lining on back wall for ease of cleaning
- Frame is sturdy enough to have the cats walk and nap on it
- Moderately heavy on it's own but not burdensome
Dislikes:
- Wish it had a seatbelt attachment feature that made it more secure in the car
- Wish it had stable feet to keep fabric bottom off of the ground
- Wish the bottom was also lined for ease of cleaning (although, to be fair, the faux shearling covering the insert is easy to spot-clean)
Overall: Have had this carrier crate for several months to haul around 5 cats with. It's been a really great help and super easy to use. Was hesitant at first due to price but you definitely get what you pay for. Would happily recommend the Boop Coop!