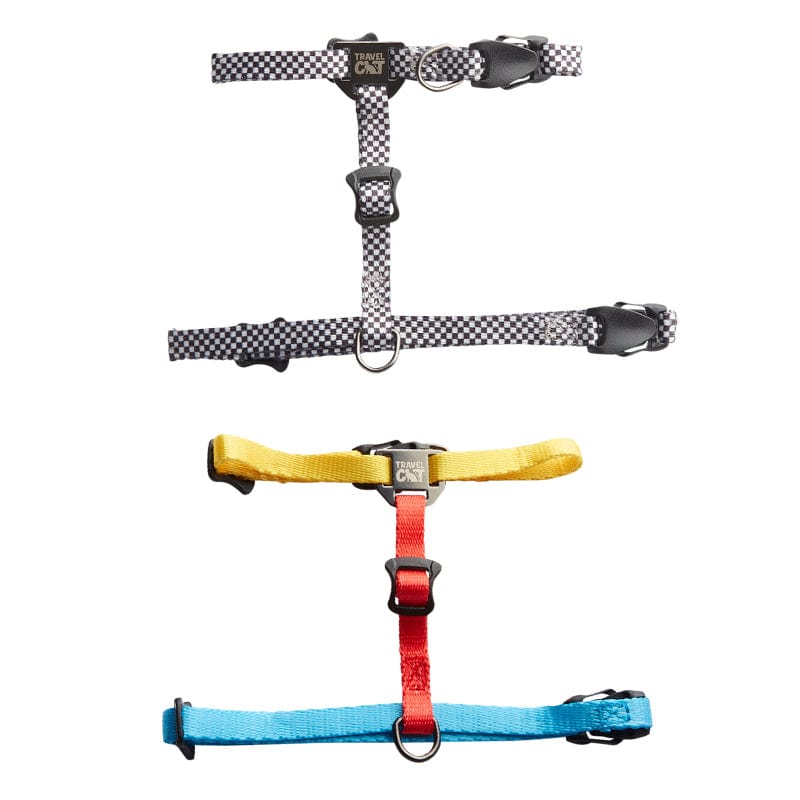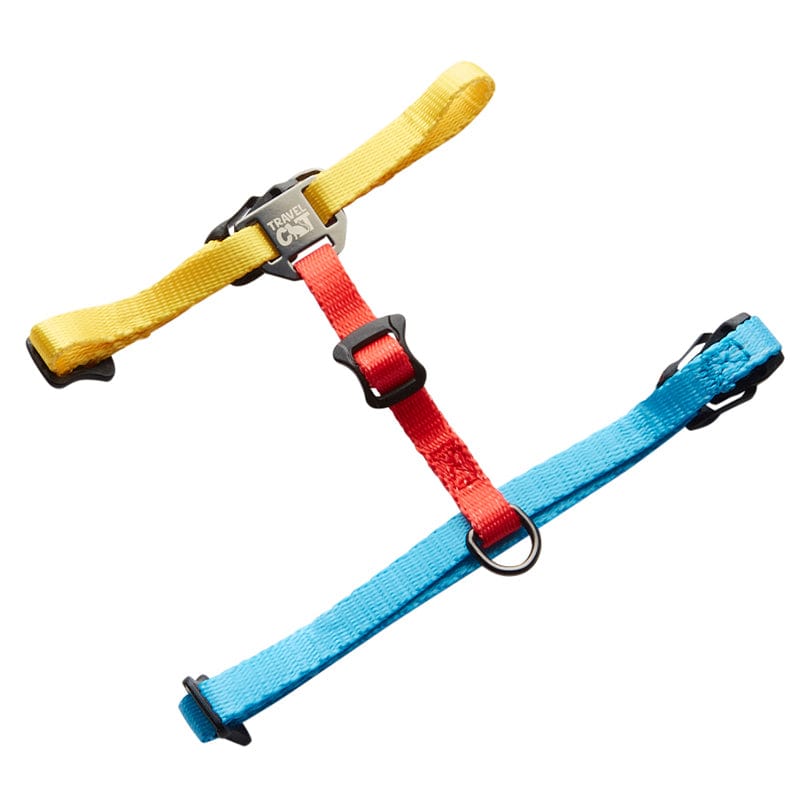 "The Double Day Tripper" - Checkered & Color Block Bundle
Sale price

$110.00
Regular price

$120.00
(/)

"The Double Day Tripper" - Checkered & Color Block Bundle
Sale price

$110.00
Regular price

$120.00
Choose options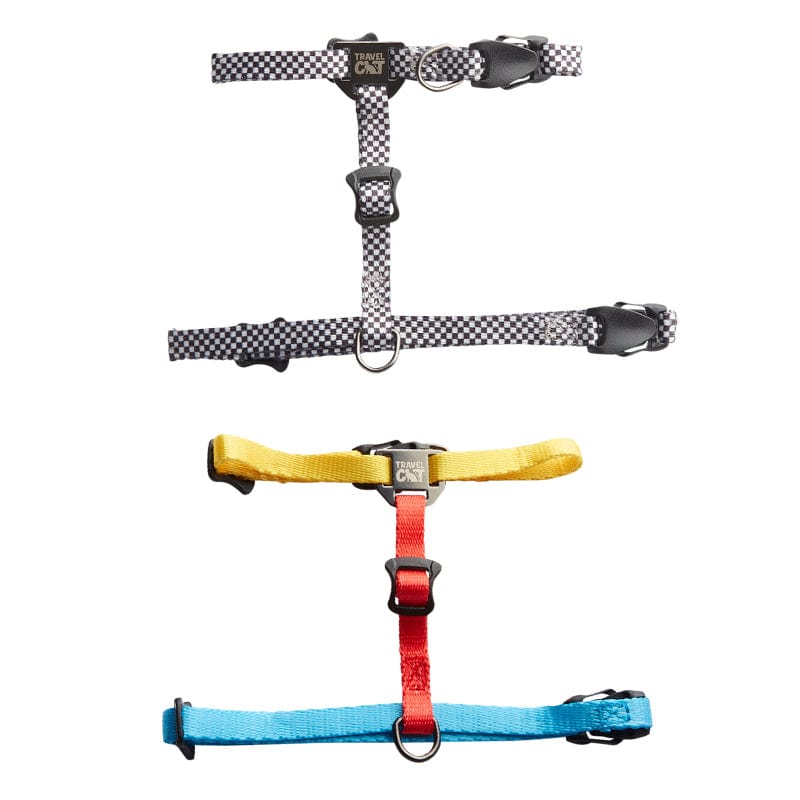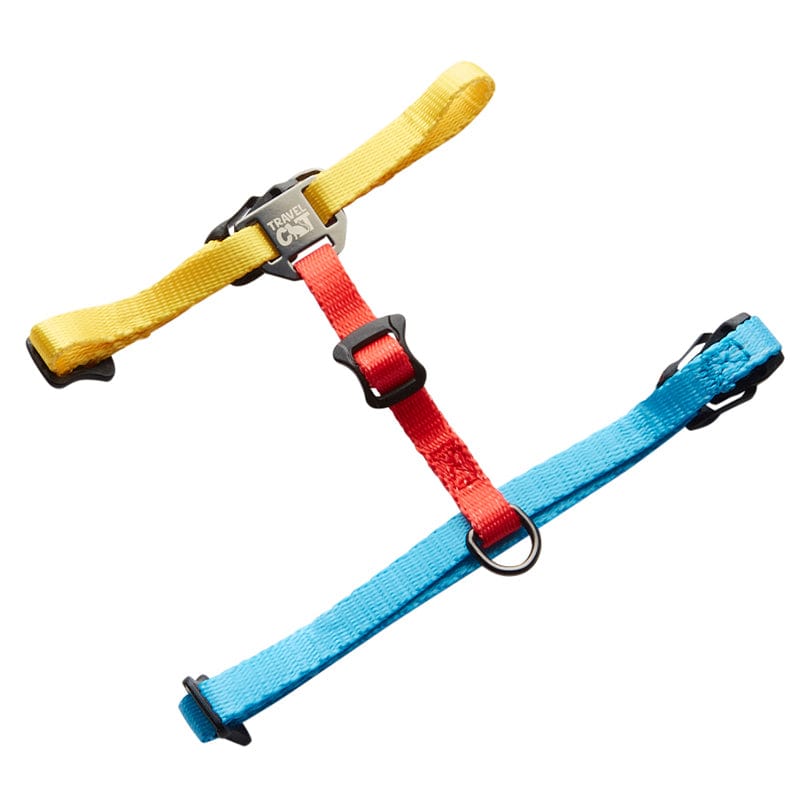 Double the fun for a discount! Stuck between the two patterns of "The Day Tripper" H-Style Harness? Now you don't have to choose. Get them both & hit the street in style.
These harnesses have been expertly designed to safely give your kitty more freedom and flexibility while out and about - whether your feline furiend likes scaling rocky trails or pouncing around town, these harnesses are the purrfect choice.
This unique harness style is fully adjustable around the neck, belly, & back. With ergonomic adjusters and easy to use clips, you can get that perfectly snug & cozy fit, whether you have a pretty little kitty or big-boned floof.
One-size-fits most.
Each harness comes with a matching bungee leash, measuring at 4ft when not stretched out to give your kitty ample room to roam, but still be close enough for comfort.
This bundle comes with both harness patterns, "Purrimary Colors" & "Check Meowt"
Are you sick of leaving your cat at home alone as much as you do? Want to spend more quality time with your fur babies? Maybe you're hoping to train your kitty to love the outdoors? Or do you need a convenient harness for every-day errands with your cat or trips to the vet?
"The Day Tripper" Cat Harness & Leash Set can help you spend more quality time with your cat beyond the great indoors - giving your cat the enrichment and stimulation they need in a safe way so they can live a long and happy life.
Here at Travel Cat, we believe every kitty deserves a life full of fun & adventure. That's why we created our line of Travel Cat gear to include felines of all sizes - from the little floofs, to those who are "big boned". Adventure should be a pawsibility for all cat parents and their kitties, to embrace the wild side & get outdoors together.
What you've stumbled upon - a site and community filled with people who do more with their cats - is a small but mighty and growing community. The Travel Cat community is filled with cat parents who realize exploring with your cat - getting in the sights and smells outside of the house - is rewarding, healthy, and beneficial for both human and feline.
Having high-quality gear is the most important factor when looking to spend bonding time outside of the house with your cat. We design our products with your cat's comfort and safety as top priority, along with your convenience and comfort as the cat parent, of course!
This easy-on, comfortable, and safe harness is exactly what you need for your outside adventures - whether that's walks around the block, road trips, hiking at National Parks, flying across the country, or anything in between.
One Size Fits Most
All orders ship with love from our warehouse in New York. Orders are fulfilled within 1-5 business days. U.S. orders usually arrive in 3-5 business days depending on your location. Because of COVID-19 it may take up to 5-7 business days.
International orders orders also ship from our New York warehouse. For international shipping information, please see our international FAQs.
Completely eliminated travel stress
I adopted Romeo a year ago as a 12 year old and immediately noticed he was not fond of carriers. I knew right away that I wanted to find the right harness for him. This style is just right for my extra plump kitty. When I first got him, he was close to 19 lbs, now he is healthier at around 15 and change. I love that the harness accommodated his weight comfortably at any size.
I needed a safe and stress free way to travel with him every weekend while getting our new house move in ready.
He enjoys having front seat freedom on our long (and short) car rides.
I am 100% certain that his travel happiness is due to his harness!
Anyone who says you can't teach an old cat new tricks hasn't tried enough.
I hope this inspires somebody out there to give harnesses a try if their cat doesn't like being cooped up!
Travel Cat we love you!
Stacie and Romeo
Great product, better customer service
The first harness I received had a broken clip that came apart way too easily. I contacted customer service about it and they were fantastic to work with. After sending a video of how easily the clip would detach, they sent me a replacement and it works great. Still working on harness training my cat but she does seem to mess with it less than other collars I have tried on her.
Trix loves going outside with this
It is easy to put on, doesn't interfere with her movement, and she doesn't try to get out of it.
Freedom and Safety!
The Day Tripper harness is wonderful! I have a couple of the other Travel Cat harnesses, but thought the Adjustable H-style harness would be ideal for my kitty's backyard explorations. The Day Tripper has worked wonderfully! Bohdee moves freely in his harness and it's secure. With nearby construction, there are jarring loud sounds. When Bohdee startles the Day Tripper has kept him secure. I appreciate the Day Tripper, and so does Bohdee
h style harness
great harness! Easy to put on and secure for my cat who will mot put her legs into the holes of the mesh harness (my other cat hold his legs out and puts them in the holes just fine and does not like me to reach under his belly to finagle with straps of the h-harness so he prefers the mesh harness)