How to Measure Your Cat for a Cat Harness -- The Right Way
So, you're ready to take your cat safely beyond the great indoors with your "True Adventurer" Cat Harness & Leash set? Fantastic!
Before you buy, make sure you measure your cat so you pick the correct size.
If you have a measuring tape, that works best. If not, you can always do the same thing with string or yarn, and then measure that up against a regular ruler or measuring tape.
If you're between sizes, go for the bigger size if your cat is still growing, or the smaller size if you think they are fully grown.
How to Measure a Cat for a Harness
Step 1: Measure your cat around their chest.
You want your cat's harness to be snug and fitted so they can't get out of it. When you take the measurement, make sure you're getting close and tight up against your cat -- down past all the floof!
---
Step 2: Find your cat's measurement on the chart below. 
Once you take the measurement, match it with this size chart.
XS - For teeny tiny kittens
S - For older kittens & small kitties
M - For average sized cats
L - For bigger boned cats
FAQ's
1. How big should a cat harness be? 
Your cat's harness should fit nice & snug. If your cat measures between sizes, we recommend going with the smaller size to ensure a tighter fit. This will make it more difficult for them to escape, and will be less bulky/more comfortable for them too. 
2. How do you fit a cat harness? 
To find the best fit for your cat, use the two adjustable straps on our harness to move the harness clip higher or lower on their back. This will make it tighter where you need it to be, ensuring a snug but comfortable fit. 
3. Are cat harnesses cruel? 
Absolutely not! We believe that part of giving your cat an enriching life full of quality time with you, is the best thing for them. Whether that looks like a walk around your yard or a 5 mile hike, is up to you! You ultimately know what is best for your cat, and if they are 100% against trying harnesses or being outside, then try to find some indoor activities to help stir off boredom instead of pushing them beyond their comfort zone. But if your cat is curious to get outside and you want to bring them out & about with you, training your cat to use a harness is not in any way cruel! It may take time for your cat to warm up to their harness, but with patience, treats & lots of kisses, adventure is pawsible!
4. How long does it take for a cat to get used to a harness? 
Every kitty is unique, and will react to their new harness differently. Expect there to be a little bit of shock or confusion when you put the harness on for the first time. In fact, most cats won't respond positively at all the first time! But that is okay - start to build a good association with the harness by bringing it out with toys at first, using treats when your cat interacts with it, and when you put it on them. Expect this warming up period to take a few days - not hours - and then follow the rest of these steps for helping your cat to get used to their harness.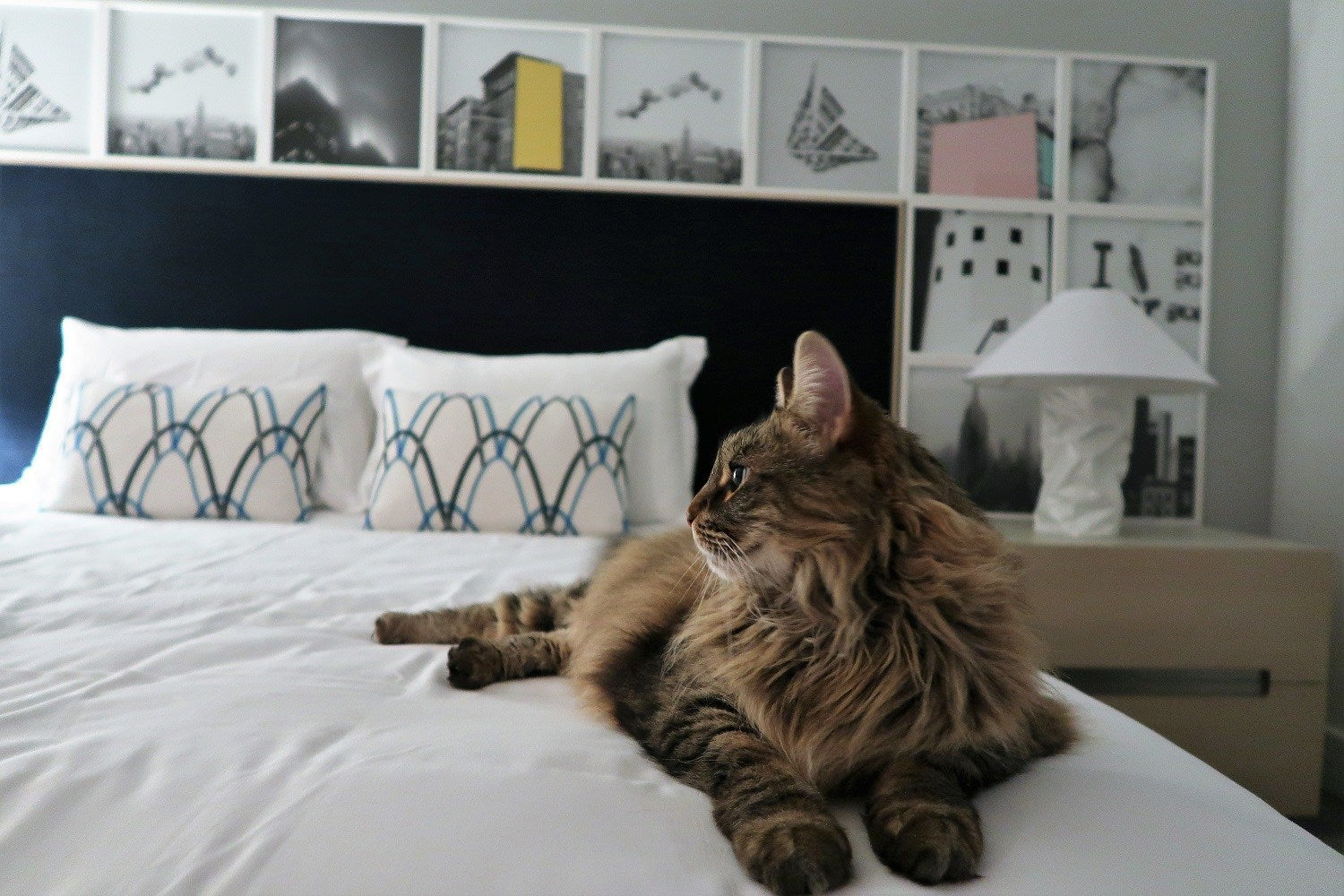 How to Put on a Cat Harness the Right Way
Walking your cat on a leash and harness is a great way to let your cat explore beyond the great indoors. Cats need exercise, play, and stimulation, and safely taking them for walks is a great way t...
Read more