ABOUT US
Thanks for visiting our small biz, Travel Cat. Emily & Ian here, co-founders (and also, husband and wife). Like many of you, we we inspired by our cats. More specifically, our first cat Andie, who we rescued on a whim after finding her abandoned in the back yard of a family member in 2017. I grew up with tons of animals, pretty much everything besides cats because of allergic parents, and Ian only ever had birds growing up.
When we rescued Andie, we weren't planning on getting a pet - and we didn't know anything about cats. But we thought seriously and hard about it and decided to go for it...we fell in love with her hard and fast.
Andie was our first cat and pet together, and she changed our lives. We couldn't believe all the negative things we had heard all of our lives about cats and cat people - because damn, having a cat is amazing and fills our lives with so much joy. Plus, lots of people told us "cats are easy" and "you don't need to do much with them" - which is totally wrong.
We became "cat people" pretty much overnight and quickly noticed there was and still is a lack of quality travel products and companies dedicated exclusively to cats. 
Shortly after, launched Travel Cat. 
We have been and always will be a company dedicated to making high quality, safe products for cats and building community and resources for cat people.
We are on a mission to help people realize that cats aren't "easy" because they sleep all day. Cats need enrichment and playtime to live happy and healthy lives. Going safely beyond the great indoors with our Travel Cat gear is one way to do that. From backyard exploring to hiking in national parks and everything in between, we're here to support your journey. 
We've quickly grown to be the #1 cat travel brand in the world.
We also adopted a brother for Andie, Wilfred in 2018.
We're grateful to run a company that's dedicated to nurturing the relationships humans have with their cats, and to be a part of so many families around the globe - serving catstomers in 100+ countries.
Our favorite part of growing Travel Cat is all the wonderful cats and cat people we get to meet and interact with within our incredible catstomer community.
We hope you'll join us!
Sincerely,
- Emily & Ian, Co-Founders,Travel Cat
& Andie & Wilfie, our cats, our muses, and our meowdels
Proudly Woman-Owned and based in NYC.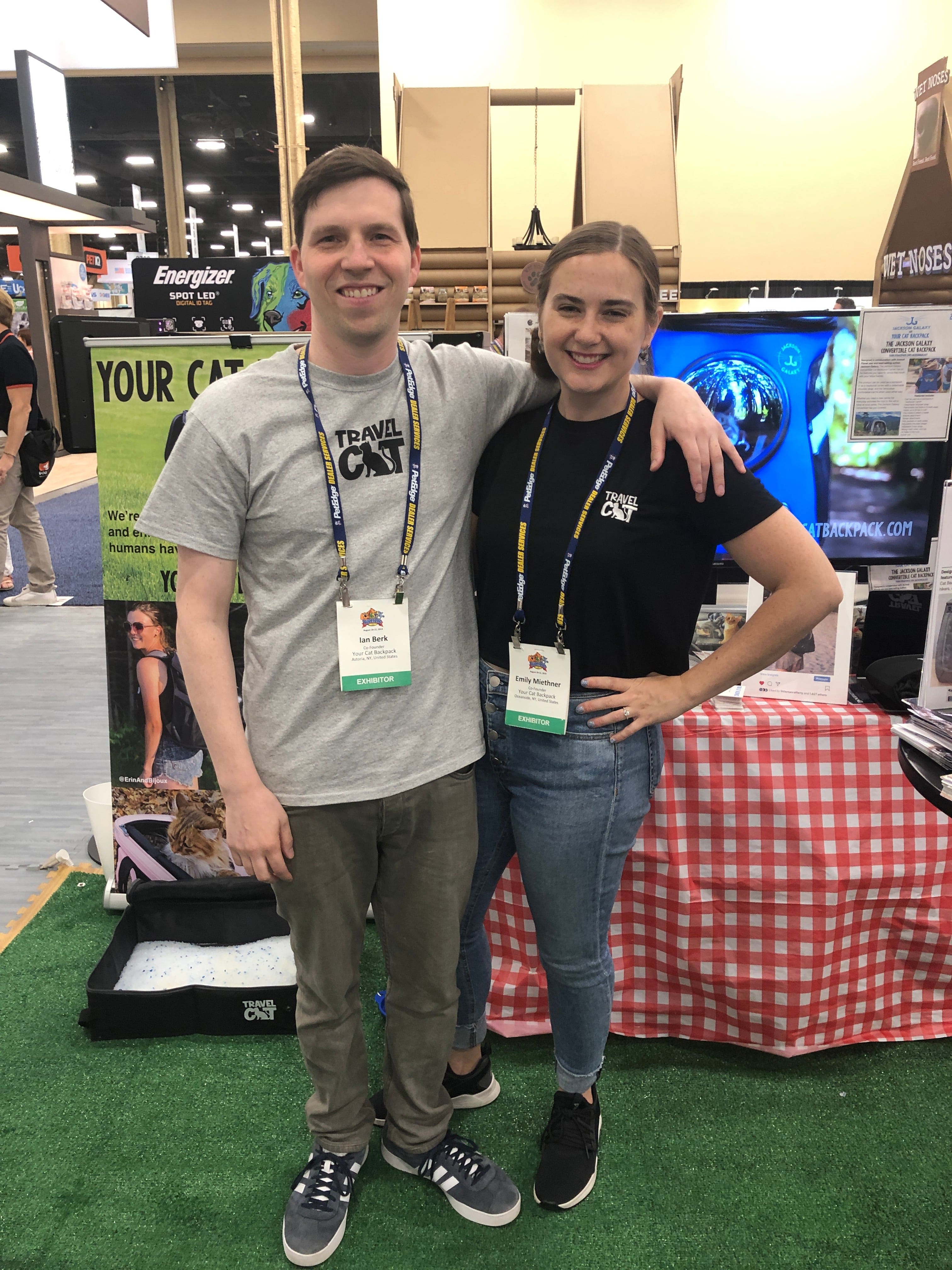 Family & Woman-Owned
Travel Cat was founded by me, Emily, and my husband, Ian. We've been together 14+ years and married 4+ years. We've both always been entrepreneurs - Travel Cat is our first business founded and run together.
Carried in 500+ Pet Stores Across the World
Let your local pet stores know they can carry our products. We love supporting other small business with our gear.
Meet us at IRL Cat Events
We love meeting you in-person and have attended tons of cat shows and events, oftentimes bringing panels of our catsomers to share their tips and experiences. Where should we go next?
3,000+ Cat People Hosted at our Virtual Events
We've hosted fun, free educational virtual events since 2020 - including our annual Travel Cat Summit.
New York HQ & Warehouse
Our team is based in New York and we run our own warehouse in the Empire State as well. This means more control and quality when it comes to getting you your gear!
Meet Andie & Wilfie
Meet our rescued babies and product testers. Andie is a daddy's girl, and Wilfie is a mommy's boy.