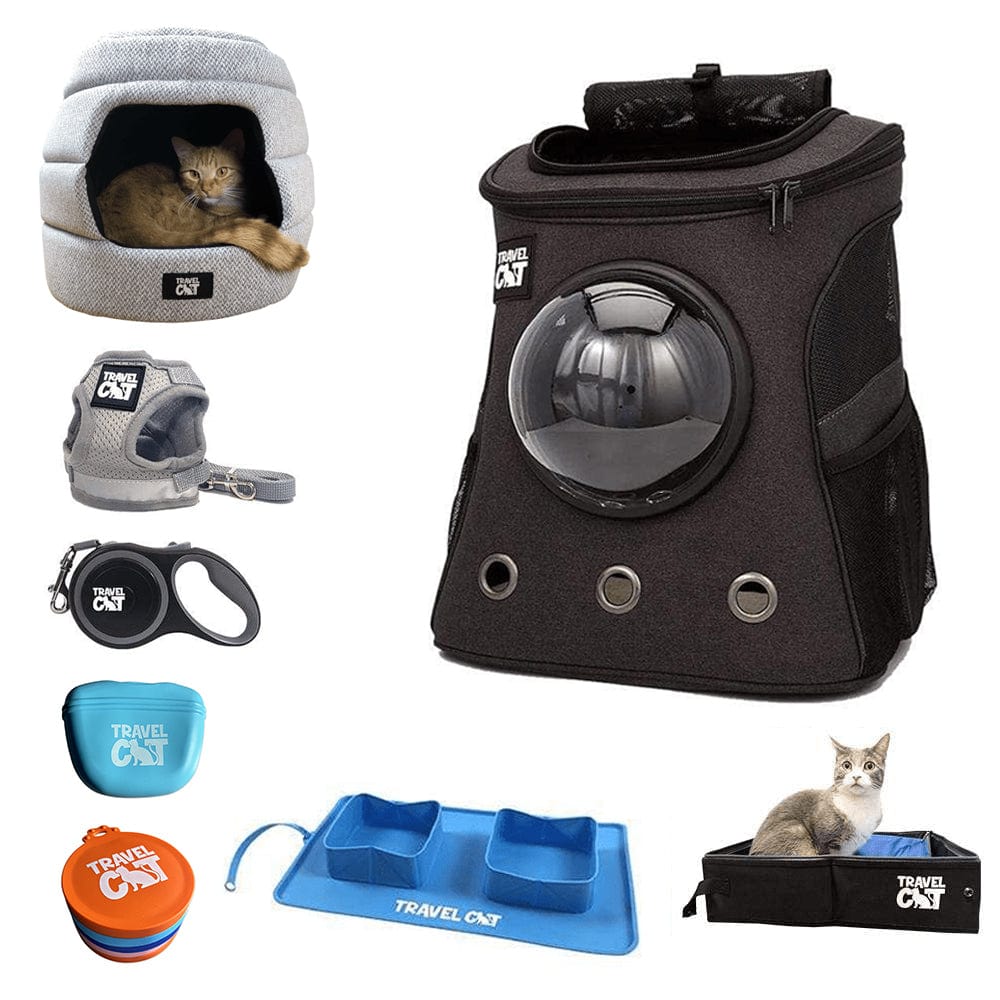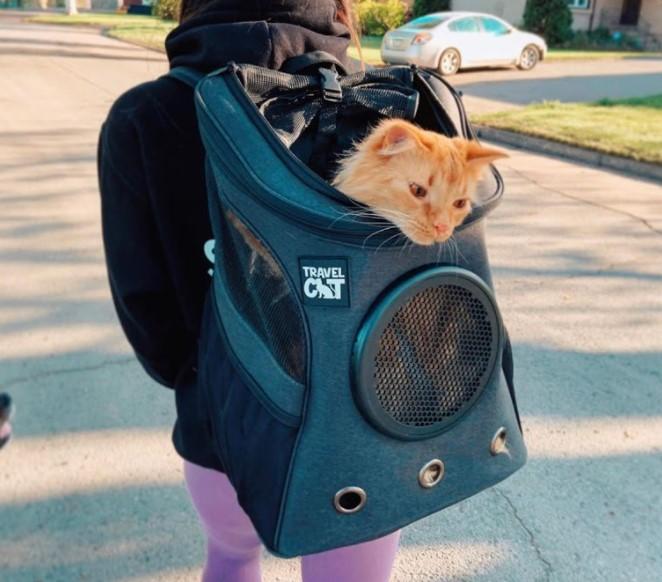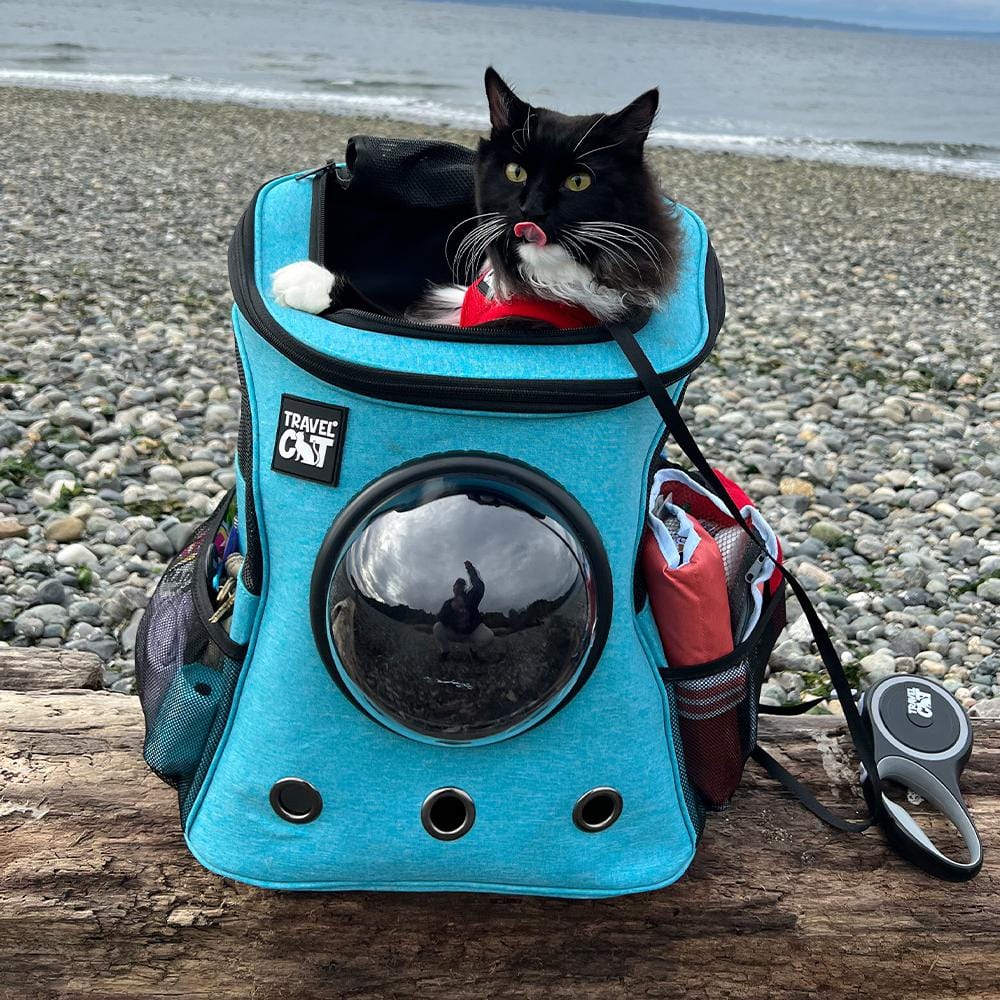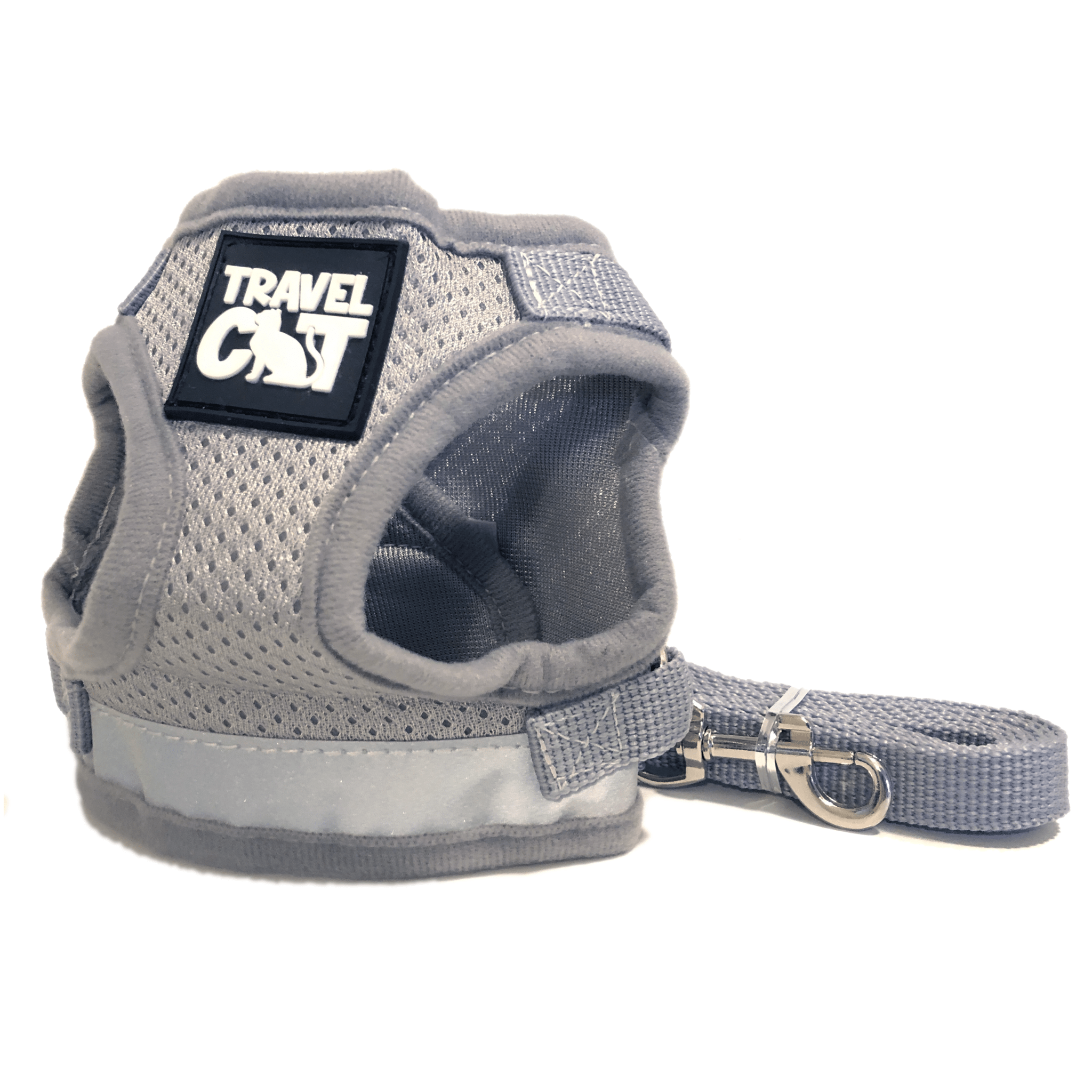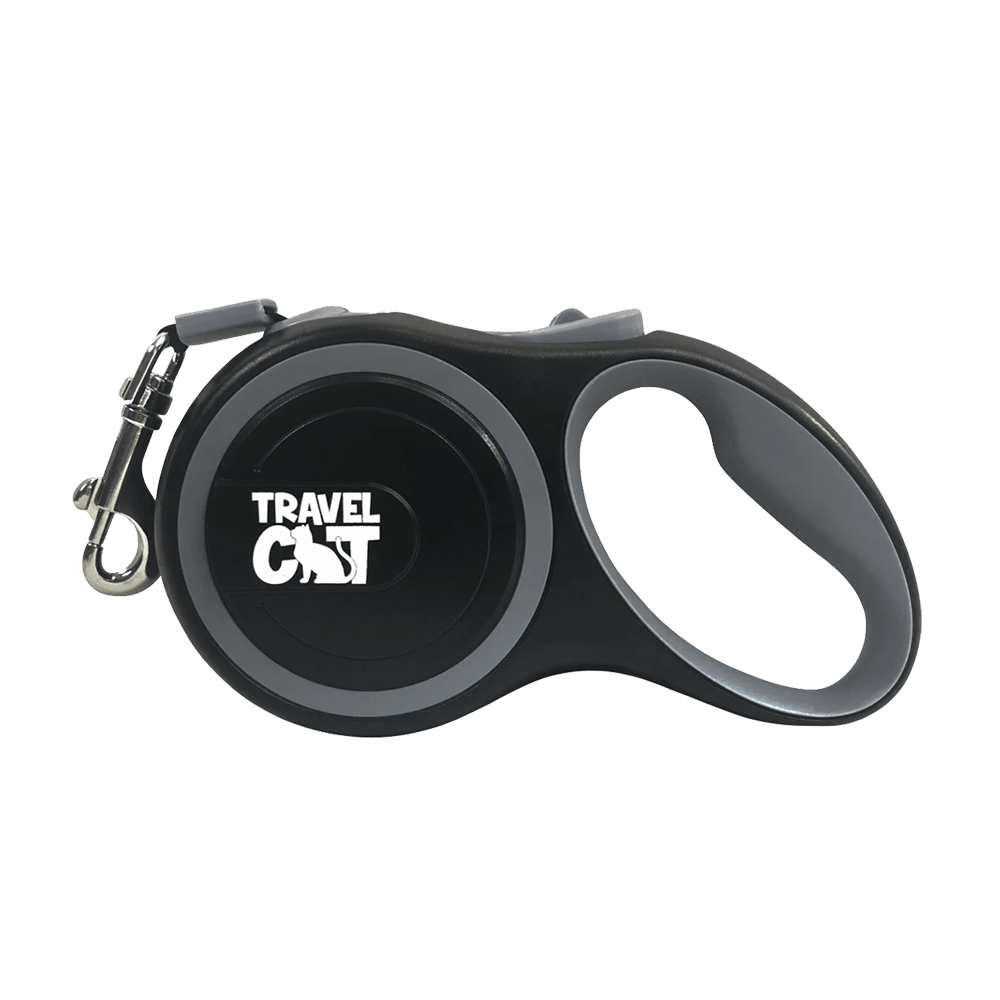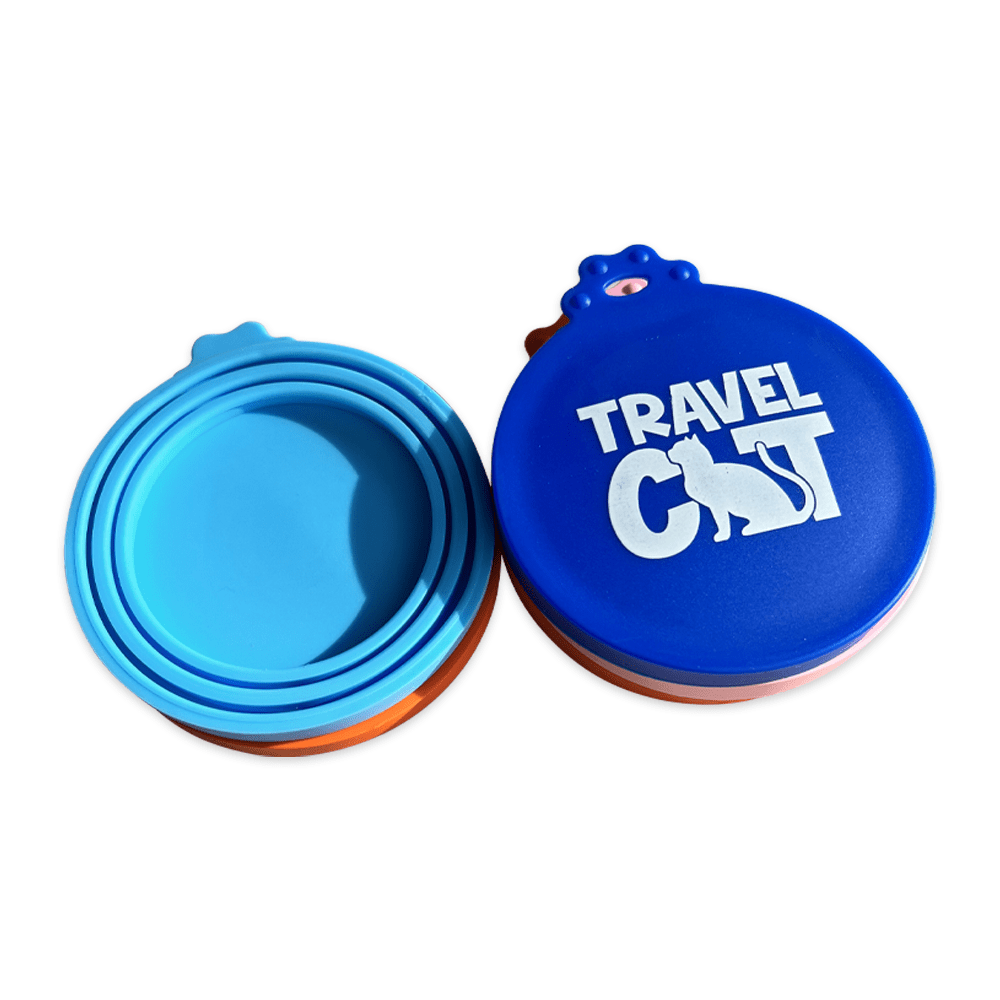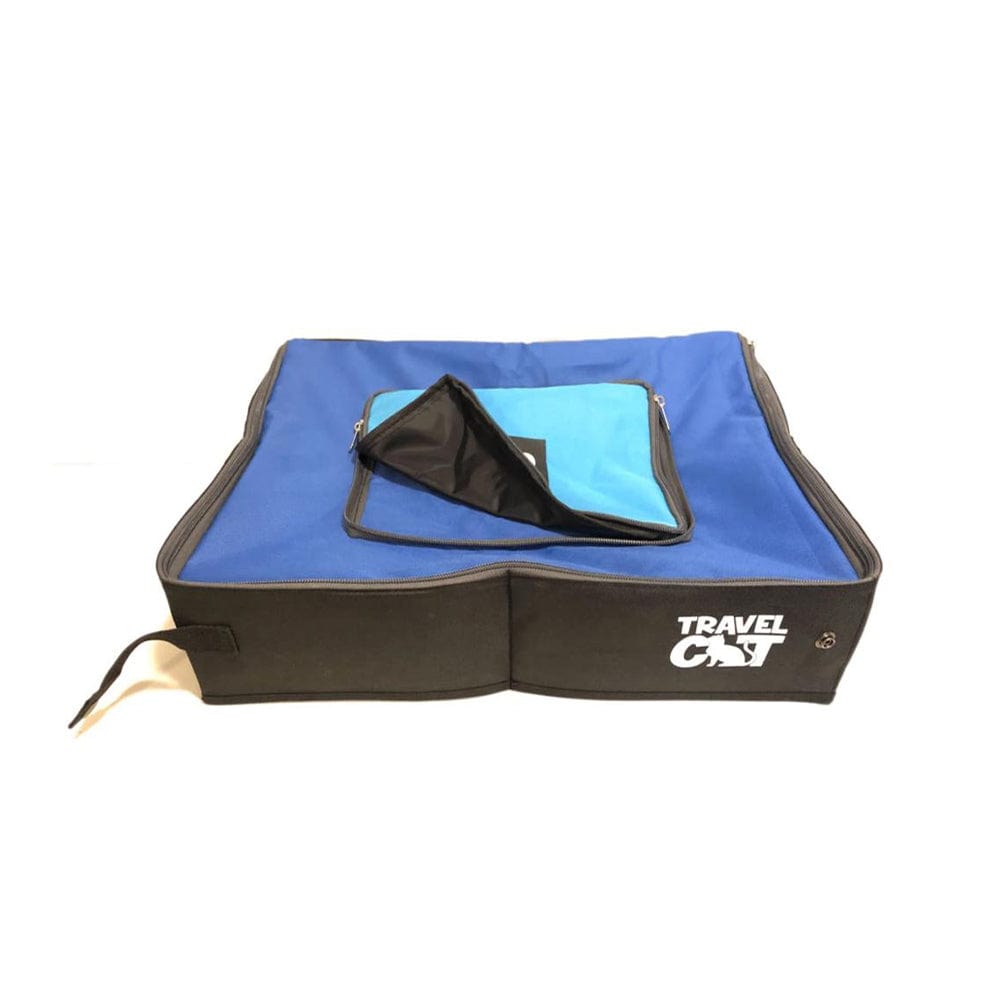 "The Whole Kitten Kaboodle" Bundle: Fat Cat Backpack, Harness, Leash, Retractable Leash, Convertible Bed & Cave, Travel Buddy, Treat Pouch, Can Covers, Travel Litter Box
Sale price

$279.99
Regular price

$293.94
(/)

Choose options
The Ultimate Bundle & Savings
Everything you need to travel with your cat and go on adventures. Save money by getting this bundle, which includes every item you need for travel cat life success!

Includes:
Your order is packed and shipped with love from our warehouse in Long Island, New York.
"The Fat Cat" Cat Backpack - For Larger Cats in Charcoal or Aqua

Holds up to 25 lbs of cat!
Clip inside to attach a leash
Bubble attachment
Screen attachment
Side pockets on both sides
Adjustable shoulder straps
Adjustable chest strap
Strong mesh sides and top (no cat has broken through yet!)
Air holes in the front (seriously, we wouldn't sell something your fur babies couldn't breathe in)
Mat, removable

Maximum Weight: Cats: 25lbs, Dogs: 17.6lbs || 11.5kg, 8kg
Dimensions: 15 x 11.4 x 17.7 IN || 38 x 29 x 45 CM
Bag itself weighs about 2lbs || .9kg
-------------------------------
Details on Other Items Included
"The True Adventurer" Harness and Leash Set
Harness measurement is done around your cat's chest
Extra Small: 10.2 in / 26 cm
Small: 14.1 in / 36 cm
Medium: 15.7 in / 40 cm
Large: 18.1 in / 46 cm

Leash Size:
Length: 4 ft / 122 cm | Width .59 in / 1.5 cm
--
"The Meowbile Home" Convertible Cat Bed & Cave
"The Meowbile Home" Convertible Travel Cat Bed is an on-the-go necessity and a stylish piece to add to your home. Designed with your kitty's comfort in mind, it has a full black interior for optimal coziness and collapses into an open bed for easy transport and convenience.
Dimensions:
25 in X 18 in X 17 in
63.5 cm x 46 cm x 43 cm
--
"The Captain" Retractable Leash for Cats
Gone are the days where adventure cats are forced to make do with dog's equipment.
Presenting: "The Captain" Retractable Leash for Cats, the first retractable leash for cats! Decorated with the nifty Travel Cat logo, this leash has an extendable cat lead length of 10 feet/3 meters, giving your cat more mobility than a standard leash would. The leash's button is slow-release, however, making it easy to control the exact length of "freedom" your fur baby is allowed.
A neutral black and grey design, this extendable cat leash pairs well with "The True Adventurer" Reflective Cat & Kitten Harness and Leash Set for Adventure Cats.
Reminder: never attach a leash to a cat's collar! Cats have different anatomies from dogs, and it isn't safe. The leash must be attached to a cat harness. Check out ours, if you need one!
Leash length: 10 FT / 3 M
--
"The Travel Buddy" Foldable All-In-One Double Bowl & Mat - Portable Cat Food & Water Dish
This refreshment station has everything you need to make on-the-go meals a breeze for you and your cat. The washable mat protects from spills, and cleanup is easy with a quick rinse and wipe down. Bring it along anywhere your travels take you with its convenient portable carrying case.
Size: 16.5 x 9.5 inches | 41.02 cm x 24.13
Avoid extreme heat and direct sunlight. Hand wash.
Material: Silicone
--
"The Reward Ready" Hands-Free Clip On Cat Treat Pouch
Our silicone treat pouch keeps your cat's treats extra fresh, and just as nearby as your hoodie pocket - without the residual smell or forgotten mushy mess going through the wash. With our silicone treat pouch, you'll never be without treats again.
--
"The Purrservers" Cat Food Can Covers 5-Pack
Tired of throwing out half-empty food cans when you're traveling with your cat? We've got the solution.
Food waste is a big no-no, especially when you're only carrying a certain amount of cat food on hand. Every meal matters, and when you're on the go, the last thing you want to worry about is running out of food, having food go to waste, or having it spill through the plastic bag you threw into your backpack last minute.
That's where our silicone can covers come in handy. They fit all standard can sizes and lock in freshness to keep your cat's food tasting purrfect for the next meal. Spill-proof, easily washable, and dishwasher safe, these reusable can covers will last unlimited adventures. Make mealtime a breeze wherever you go.
--
"The Porta-Pawty" Travel Litter Box - Portable Bathroom for Cats
Seamless interior liner is easy to clean between uses
Zippered top cover prevents spills during transportation once in use and locks in odor
Extra top pocket for litter scoop and extra litter
Lightweight, collapsible, and snaps closed for convenient and easy storage and packing
Side handles for easy carrying
The perfect size when open, including for larger cats
All orders ship with love from our warehouse in New York. Orders are fulfilled within 1-5 business days. U.S. orders usually arrive in 3-5 business days depending on your location. Because of COVID-19 it may take up to 5-7 business days.
International orders orders also ship from our New York warehouse. For international shipping information, please see our international FAQs.
Planes, Trains & Automobiles
Great carrier. & supplies when you and your cat are on adventures
Cant wait for the travels
I got the whole set for my big boy Beef Stew and while hes still a little hesitant hes warming up to his harness and backpack very fast! The litter box with be purrfect for camping trips and the retractable leash will let him have lots of fun exploring! Even if he cant fit in the bed his older sister Skittle thinks its pawfect for her!
Well made
This is a well made carrier. I have a 16 pounder and a 24 pounder, wish the backpack had juts a smidge more room for these big guys to turn around, but I know they are safe. Heres my 15 year old siamese already in his.
A great start for traveling kitty
Chase is a long-haired part Maine-coon cat, so he is very tall and big. I purchased the "Fat Cat Backpack", which I believe is the largest backpack offered. Chase fits in the backpack, but it's still a pretty tight fit - He can sit in it comfortably I think, but I don't believe there is any way he's going to be laying down in it - it's just not big enough for a cat his size. But time will tell. He loves his "igloo" sleeping cave as I call it. I did not receive the retractable leash, which was supposed to be part of the bundle I believe, but he doesn't venture far when he goes outside so I wasn't too worried about the missing item. I'm happy with the purchase, but we'll see how well he takes to the backpack - he's still adjusting to the backpack.