Travel Cat Summer Training: A Virtual Community Hangout
Open Exclusively to Our Catstomers!

Join our hangout on Sunday, July 11th at 2pm ET / 6pm UTC
Our virtual event will once again feature Travel Cat Community Expert Co-Hosts who will facilitate conversations between attendees about cat backpack and harness training, and the joys of being a cat guardian.
This isn't another giant webinar! 
As an attendee, you can also share tips and stories and be on camera (if you choose!) as well as learn from our expert Travel Cat Community Co-Hosts.
Since this is more of a hangout vibe, there are very limited spaces available.
It's first come first serve, so make sure to sign up and get your free spot!
Travel Cat Community Co-Hosts Include:
 PAST EVENT ATTENDEE REVIEWS
⭐⭐⭐⭐⭐
"This was an amazing event! So great to meet like-minded people who are just as in love with their cat as I am."
⭐⭐⭐⭐⭐
"The experience, especially as a new kitten owner, was fabulous as my goal is to have a travel partner and fishing buddy. I like hearing the tips and tricks mostly for training but just hanging out with fellow travel cat people was the best part!"
⭐⭐⭐⭐⭐
"I really enjoyed hearing from people who had experience. It gave me the desire and the confidence to persevere with getting my cats comfortable with the leash and harness. It was great to be in a group with other cat parents because they brought up questions that I didn't even know I had."
⭐⭐⭐⭐⭐
"Such a fun experience getting to meet and gain insight from other cat parents. Just discussing with others brings such great ideas up and is so helpful! So much fun, cannot wait to attend another event!"
⭐⭐⭐⭐⭐
Photo from our first even virtual event!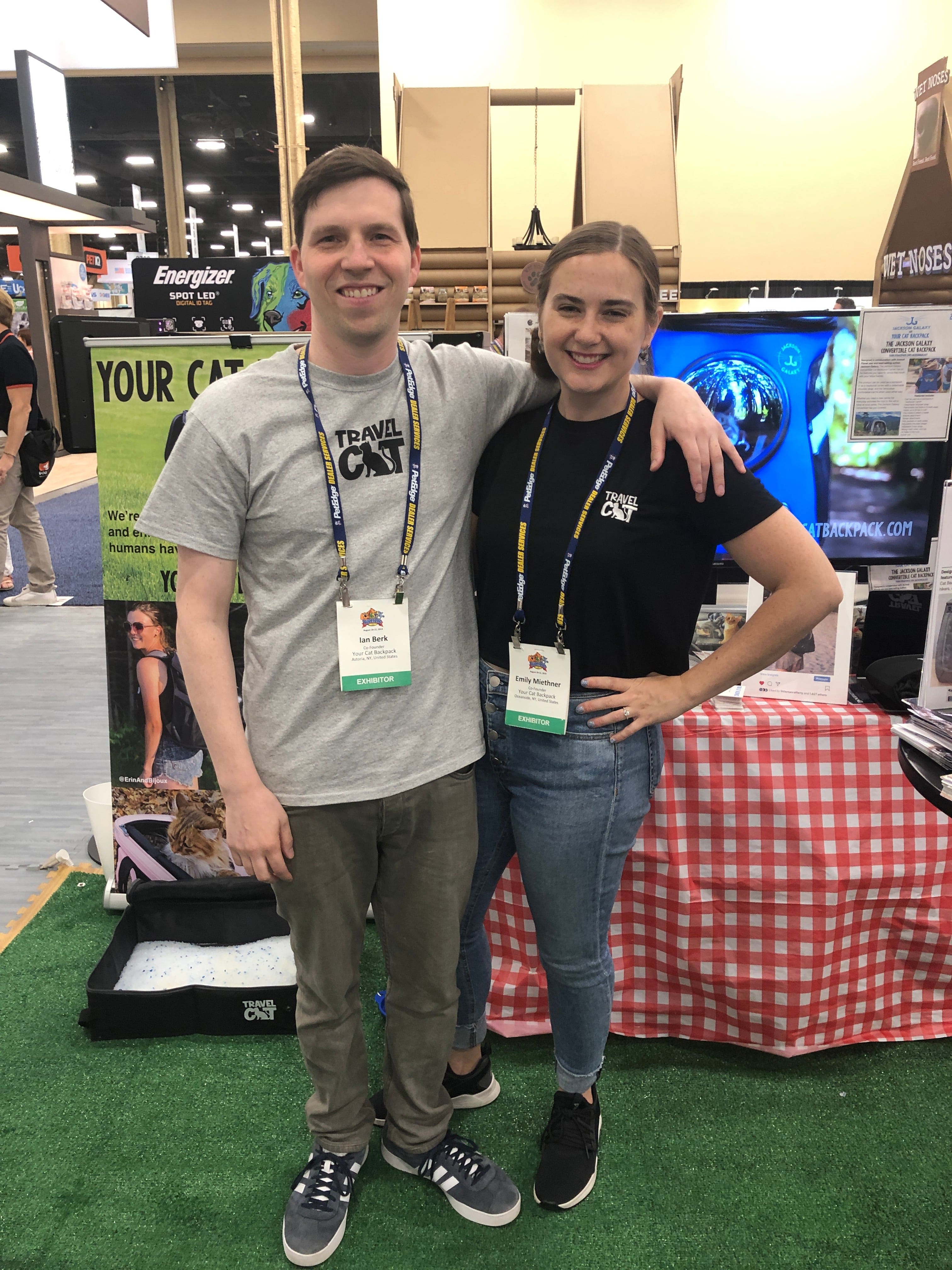 Family & Woman-Owned
Travel Cat was founded by me, Emily, and my husband, Ian. We've been together 14+ years and married 4+ years. We've both always been entrepreneurs - Travel Cat is our first business founded and run together.
Carried in 500+ Pet Stores Across the World
Let your local pet stores know they can carry our products. We love supporting other small business with our gear.
Meet us at IRL Cat Events
We love meeting you in-person and have attended tons of cat shows and events, oftentimes bringing panels of our catsomers to share their tips and experiences. Where should we go next?
3,000+ Cat People Hosted at our Virtual Events
We've hosted fun, free educational virtual events since 2020 - including our annual Travel Cat Summit.
New York HQ & Warehouse
Our team is based in New York and we run our own warehouse in the Empire State as well. This means more control and quality when it comes to getting you your gear!
Meet Andie & Wilfie
Meet our rescued babies and product testers. Andie is a daddy's girl, and Wilfie is a mommy's boy.