Do Cat's Like Fireworks? And Other Summer Safety Tips
School's out, your PTO is approaching, and everyone's got summer on their minds. Whether you're planning a getaway somewhere tropical, a hiking trip with your friends or driving cross country, your sure to want to bring your cat along! But while your cat adores spending time with you, not every fun outdoor activity is cat-approved. 
Here are some tips for having a safe & feline friendly summer together:
1. Cat's don't like fireworks. 
Being in a loud environment with bright fireworks is seriously stress-inducing for your little fur baby. While picnics and bbqs are fun to enjoy together, take your kitty home early to keep them from getting upset. 
If your neighbors like to set off fireworks, here is how you can help your cat feel safe: 
Close your windows & curtains.
This will help make the flashing lights less intense and muffle the noise. 
Try giving your cat a dark and cozy cat cave to escape to. 
A familiar place to curl up in will help your cat feel safe and secure, kind of like how tucking under the covers in your own bed makes you feel. 
Stay nearby. 
Nothing calms a kitty quite like their hooman. Stick around if your cat is extra prone to anxiety caused by loud noises and bright lights so they know that you're close.
2. Keep your cat far away from any open flames. 
If you are at a bbq or bon fire with your cat, ALWAYS make sure they are kept far away from any open flames or hot grills. Keep them snug and secure in their cat harness and/or backpack at all times and always have them within arm's reach. 
Things to keep your cat away from any outdoor gathering: 
Sparklers
Bon fires
Hot grills
Any open flames/tiki torches 
3. Make sure it's not too hot outside. 
If it's too hot for you, its definitely too hot for your cat. Make sure they can keep cool with plenty of water, and keep your outdoor time to a minimum on those extra hot days. 
4. Keep them close around large bodies of water
Does your kitty like to paddleboard? Swim even? Or maybe they prefer enjoying the big blue from a distance on shore? Either way, great! Just make sure they are secure in their harness and/or backpack and within arm's reach at all times.  
There is SO much to explore and see with your cat by your side, and we hope you have a summer full of fun adventure together. Just remember to always put their safety first! 
FAQ'S
Do cats like fireworks? 
Nope! Keep your kitty at home if you're going to see them. 
Do cats like water? 
Some really do! We've seen a swimming cat or two. Don't ever force your cat to like the water, as most don't take to it, but it is possible! 
Can cats go outside? 
100%. 
How do I know if my cat wants to go outside? 
Here are all of the tell-tail signs! 
Where can I take my cat outside?  
Hiking, biking, boating, walking, laying out, picnicking, cloud watching, hammock napping, you name it. Just stay safe! You know your kitty best, pick something they would be comfortable with & work from there.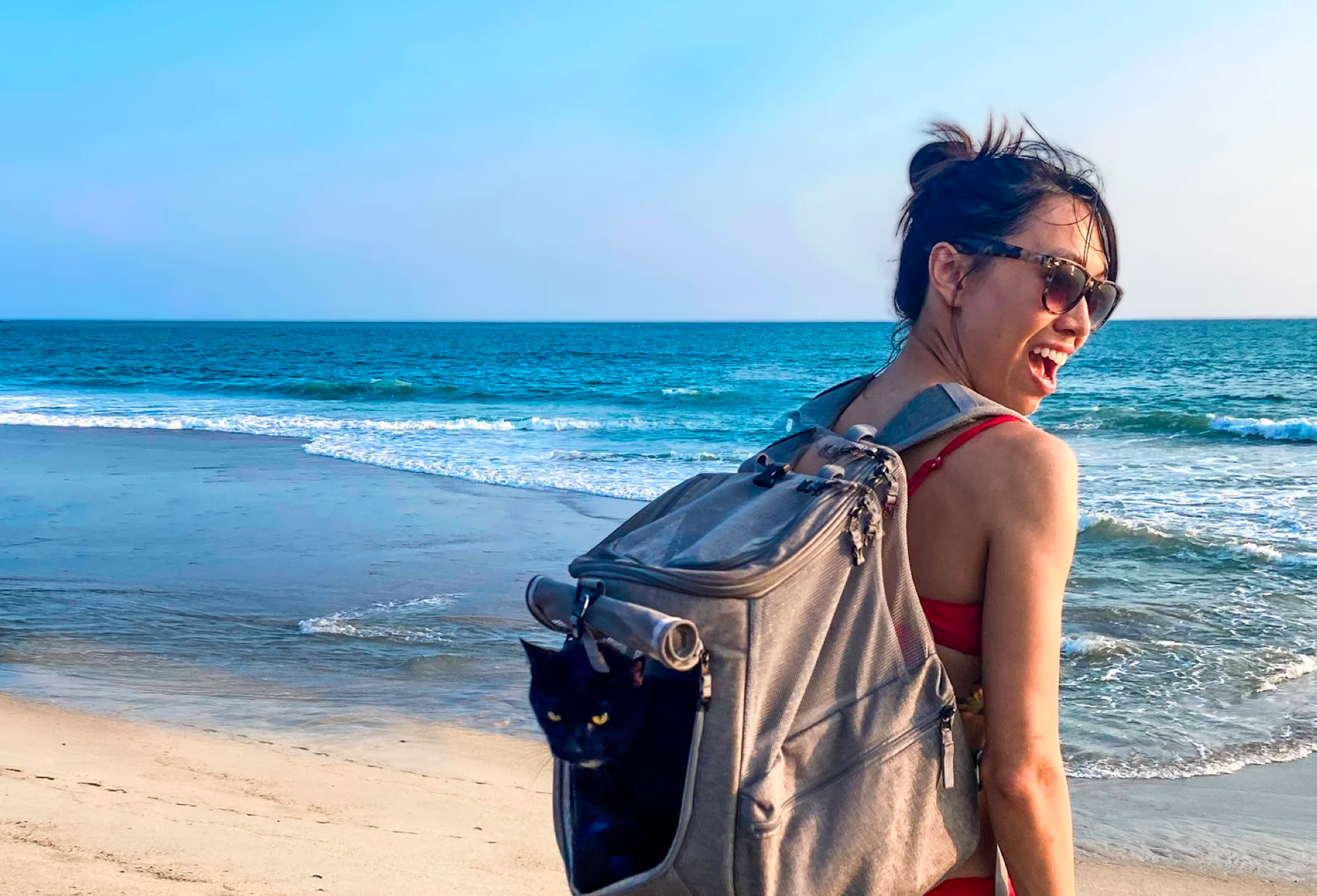 It's inevitable, taking your kitty out of the house comes with a little extra mess. But we've come up with a few solutions to keep things as clean as pawsible while you're busy adventuring with you...
Read more