Going on a Road Trip with Your Cat? Here's What You Should Know
Think it's impossible to take your fur baby with you on a road trip? Think again! Traveling with cats doesn't have to be stressful, and there are many ways you can prep in advance to make your road trip go smoothly. 
While cats do like familiar surroundings and can have a hard time adjusting to too much change, there are things you can do before your road trip to make sure they are as comfortable as possible & you can have an enjoyable experience out on the road together. Traveling long distance with cats can seem intimidating at first, but this comprehensive guide to road-tripping with your cat has everything you need to know for your cat-venture, plus lots of cat car ride tips from fellow cat parents. Let's hit the road!
Table of Contents: 
Cat Carrier
Choosing the Right Cat Carrier
Features of a Good Cat Carrier
Where to Place the Cat Carrier in the Car
Train a Cat to Like the Carrier
Best Cat Carriers and Cat Backpacks for a Fun Road Trip with Your Cat
Litter Box, Scoop, and Litter Supply
How will my cat use the litter box on a car ride?
The Best Portable Litter Box for Cats
Medical Documents
Cat Stress Medication & Anxiety Relief
How do I travel with multiple cats or pets?
What not to do on your car trip.
What should I do if my cat gets carsick?
How do I entertain my cat during the trip?
The best way to prepare for a long car ride with your cat is to help them get used to the car at least a few weeks before you plant to leave. Train them by letting them sit in the car for a little bit to get used to the smells & sounds, then begin taking small rides around the neighborhood, to your vet, or run errands together.
Make sure you have a cat carrier that they are comfortable in, and that is safe for traveling long distance with cats. Your cat carrier or cat backpack will work as a cat car seat, making sure that they have a cozy place to call home when you're out on the road. Now is a great time to also start leash training if your cat isn't already used to their leash. For some helpful tips on leash & harness training, see this article.  
Visit a Veterinarian: Make sure your cat is up to date on all of their shots before your road trip, and get a general check up to make sure your kitty is good to go. Bring along any paperwork just in case of an emergency vet visit on the road. 
Source a Cat-Friendly Hotel: If you're planning an overnight road trip, make sure that you are staying somewhere that will welcome your kitty. There are tons of cat-friendly hotel options to choose from, like La Quinta & Hilton 2 Suites. 
Plan Pit Stops: Plan some stops along the way so your kitty can get out & stretch, use their portable litter box, or eat from "The Travel Buddy" Foldable Food Bowl & Mat. 
Microchipping & ID Tags: It's always a good idea to microchip your pet, just in case of emergency. Always make sure your pet's ID tag has your contact information printed clearly on it, so they can be returned to you ASAP if they are to get lost. 
Leash Training: Leash training & harness training your cat will make going on a road trip that much easier. Taking pit stops, walking into the hotel, or even having your kitty attached to their leash & harness while in the car will give you peace of mind.  
Tips from other cat parents:
"Harness Training! Good carriers that they are comfortable with. MICROCHIPS, and lots of patience!" @twintorties
"Practice before long rides. Build in stops to go to the litter box or eat. CBD oil is calming. Make sure you have a plan in case you need an emergency vet visit" @sherlock_thesiamesekitty
"We went for car rides before the big trip to get her used to being in the car for a long time." @massy_masc
"Start harness training young. Let them adjust to it. Don't force it. Patience!" @ubliani
"Don't be sad if the first time he's afraid. By the second time, your kitty will be good!" @mariuxitapia 
@camerousseau
Choosing the right cat carrier is vital to making sure your cat feels safe & secure on your road trip. Cat carriers give your cat a place to call their own while they are riding in the car, and while they're out and about on your adventures! Check out our many different cat backpacks here, all which are great for taking your cat in the car. We've got something for every Travel Cat!
Strong - Obviously. You want your cat carrier to be made of high quality material! All of our carriers are made with top-of-the-line fabrics like oxford cotton & strong scratch-proof mesh. 

Well-ventilated -  Your kitty needs a cat carrier that doesn't let them get too hot, and has plenty of airflow. All of our backpacks have multiple air holes or mesh paneling to make sure your cat gets all the fresh air they need!

Size - Kitties are cute, in every size! Find the carrier that works best for your furry friend. We have cat backpacks for small, medium, and bigger boned cats that can hold up to 25lbs of floof. 

Comfortable - If you aren't comfortable wearing your cat backpack, your kitty isn't going to feel comfortable either. All of our backpacks have adjustable straps and are super comfy for both kitty & hooman. 
"Take them on short walks in the bag and set them in the vehicle daily for 10-20 min. Maybe even drive around for a few min so they know what to expect during a car ride. Reward them with treats!" @chernobylcat_n_mimo
Where to place the cat carrier in the car - 
Cat carrier backpacks and cat car seats should be placed on a secure surface where they won't slide, like the floor between the passenger's feet, or seat of your car. Never put your cat carrier in the trunk of your car, as there is not enough ventilation for safe airflow for your cat. Keep their carrier secure by fastening with a seatbelt, or placing between things to keep it in place. Avoid putting your cat carrier in front of a direct air conditioning/heating unit so your kitty doesn't get have to brave the elements! Make sure to bring your cat's favorite blankets for an extra cozy ride.
"Make the Backpack the safe space. they will always have somewhere to return to." @jules.adventure.cat
Train your cat to like the carrier - 
Making sure your cat feels at home in their secured cat carrier is important before you go on any road trips together. Practice by keeping the cat carrier out & accessible to them at home, so they can hop in and out whenever they want. Then practice by taking them outside, then on short walks, then longer walks. For more in-depth advice, check out this article. 
"Bimini falls asleep in his fat cat backpack, and enjoys some of the trip looking out his space bubble" @bimini.the.ragdoll
Best cat carriers and cat backpacks for a fun car trip with your cat:
"Transferred to his backpack when we made a stop and he did so well! No fights, no fits, so dreamy." @stephanielshulte 
Bringing a travel litter box along on a road trip is a must. Your cat needs a place to go, and you definitely don't want that place to be your back seat. Bring "The Porta Pawty" Travel Litter Box and use your cat's normal litter to keep their mess contained. This litter box zips up to keep mess from shifting around, and is seamless for an easy clean at the end of a long day on the road. Get your cat used to their portable litter box by starting to use it in your house, a few days before you set off on your trip. Put it in place of their normal litter box, using their normal litter to ease the transition.
"The Porta Pawty" Travel Litter Box
How will my cat use the travel litter box on a car ride?
Your cat might feel comfortable doing their business on the go, and if so, they could be let out of their carrier to go in their travel litter box if you pull over. But if your kitty prefers to go outside of the car, you might need to make a longer pit stop to set up their space. Since kitties like to eat & use the pawty shortly after, we recommend pulling over to do both safely & more conveniently. Thankfully, "The Porta Pawty" is super portable & easy to store away until you need it. Just unroll it, let your cat do their business, and zip back up to contain any mess once your kitty is done. 
Best Portable Litter Boxes for Cats:
"The Porta Pawty" Travel Litter Box is what we recommend. See more of its features, here. 
Portable Travel Cat Beds
If you're planning an overnight trip, having a place for your kitty to sleep is a must, especially if you're going to an unfamiliar environment. Your cat will want a place to call their home and get away for a snooze sesh every now and then.
Don't forget to pack their favorite blankets, and "The Meowbile Home" Convertible Cat Bed & Cave is just that - a scent soaker bed that will help your kitty feel more at home, wherever you go. A scent soaker is something with your kitties scent or your scent on it and will help calm cats for travel because they'll be in a familiar-smelling place. "The Meowbile Home" is super lightweight and easy to transport in its drawstring bag. 
"The Meowbile Home" Convertible Cat Bed & Cave 
If your kitty needs some extra space to move around, try out "The Donut" Cat Bed & Cave. This bed is easy to transport and fits right on your car seat or in the back with the seats down, for a fun alternative to your cat backpack carrier. "The Donut" is not only a great place for a kitty snooze sesh, but it will also give your cat another way to play & entertain themselves on the road. 
"Donuts!! These have been a life saver for us, so much less whining when they have these to hide in." - @birchandluna
It is important to bring along any medical documents that your cat might need on your road trip, like vaccination certificates, etc. just in case of an emergency. If they are on any medication, make sure to have those documents & the appropriate dosage to last the entirety of the road trip (plus extra). 
Prepare for your cat to feel some stress during the road trip, and if your cat is extremely prone to anxiety attacks, consider leaving them with a trusting friend or family member while you're gone. We do not recommend cat sedative for travel, but there are plenty of anxiety relief medications and solutions that would offer a safe alternative. Be sure to ask your vet what they would recommend you bring if your cat needs a little extra help calming down. We love Jackson Galaxy's "Easy Traveler" All-Natural Holistic Solution. 
Food & treats are also a great way to calm nerves, and entice an otherwise skeptical kitty. Try using their favorite treats while training them to ride in the car as well, rewarding after they get in the car and at the end of the drive. 
A hungry kitty is not a happy kitty, and you don't want to drive with an unhappy kitty. Continue using your cat's normal food & eating schedule while on your road trip, in order to keep things as familiar to them as possible. Store your cat's food in ziplock food bags to make sure it stays fresh, & mess free.
Keep your cat hydrated throughout the duration of the road trip with portable water bowls, especially if you're traveling somewhere on the hotter side. Make sure to bring more than enough food for the duration of your trip, along with plenty of treats! Check out our cat travel accessories & food/water bowls, made to help your travels go a little smoother. Whether your cat likes dry or wet food, this silicone travel bowl is super easy to clean and store away when you're not using it.
"The Travel Buddy" Foldable All-In-One Double Bowl & Mat 
"The Go Anywhere Bowl" Collapsible Travel Pet Food and Water Dish
While your cat might enjoy peeking out the window for a bit, it won't entertain them for hours on end. Bring along your cat's favorite kickers, teaser wands, and other toys that will help them feel at home & entertain them while on the road. Check out these super fun & portable toys:
"The Rainbow Dancer" Cat Teaser Toy Wand
The more floof the better! Going on a road trip with more than one furry friend might pose different challenges, but none that any cat-loving parent can't weather. Just make sure to have plenty of food, a carrier big enough for them or multiple carriers, and follow your cat parent instinct. Remember to take plenty of stretch/food/bathroom breaks, and bring treats galore. Having multiple cats come along might mean your cats can help entertain themselves, so the ride might be a little extra fun. Even if that means less - quiet 😹
If you're traveling with different types of pets, make sure your cats are well-adjusted or have time to meet & greet their road trip companions. If you're going on the road trip with some pet parents, try planning a little play date for your kitties and pets to meet before the big day. 
"If traveling with dogs AND cats, put the cats in the vehicle first and let them be used to the environment prior to letting the dogs in." @chernobylcat_n_mimo
Never leave your cat alone in the car. This is especially important on extremely hot or cold days. If you are traveling and want to explore a bit on your own or go out to eat, we suggest finding a cat friendly hotel to stay at for the night, or pet sitter in the area! If you need to go to the bathroom, either bring your cat with you in their cat backpack, or if you're riding with a friend, have them sit in the car with your cat. 
Try not to let your cat out of their carrier. They might want some freedom & space to move around, which is why it's important to find a cat carrier that they are comfortable in. It is not safe to keep your cat out of their carrier while you are driving, in case of an emergency. They might protest at first, but try & build in plenty of walk breaks so they can stretch their legs, eat & use the bathroom, and give them lots of treats.
Don't leave the windows open too far, and always make sure they are locked. Having a cracked window might help keep your kitten calm, but there should never be enough space for them to escape. Always keep your windows locked, even if they are cracked a bit, so that curious paws don't lower them.
"Windows cracked (and *locked*) help keep kitties calm. Plus breaks for walks!" @birchandluna
Whether or not your kitty is an experienced car traveler, accidents happen. If they end up getting carsick, keep calm & give lots of comfort, clean them up, and try to clean their carrier as best you can. In order to make clean up easier, pack wipes just in case, and line your car & their carrier with towels or pee pads that you can easily remove. Unless your kitty is seriously ill, carry on with your road trip & don't let it ruin those awesome adventure vibes.
A bored kitty is a loud kitty 😹 Bring their favorite toys, treats, and make sure to take plenty of rest stops so they can eat, stretch their legs, & be stimulated by the scenery along your drive! If your kitty likes looking out the window, position their bag so they can peer out & check on their whereabouts while you're on the road. Depending on how long your trip is, they will probably sleep a lot too! 
Yay! You did it. 
Reward your kitty with lots of treats & kisses, and give yourself a pat on the back for a road trip well done! And maybe take a nap 😽 💤
We hope you enjoyed these tips & experiences from our community 😽
Disclaimer: You know your cat best. Please use caution & travel with your kitty's safety as top priority!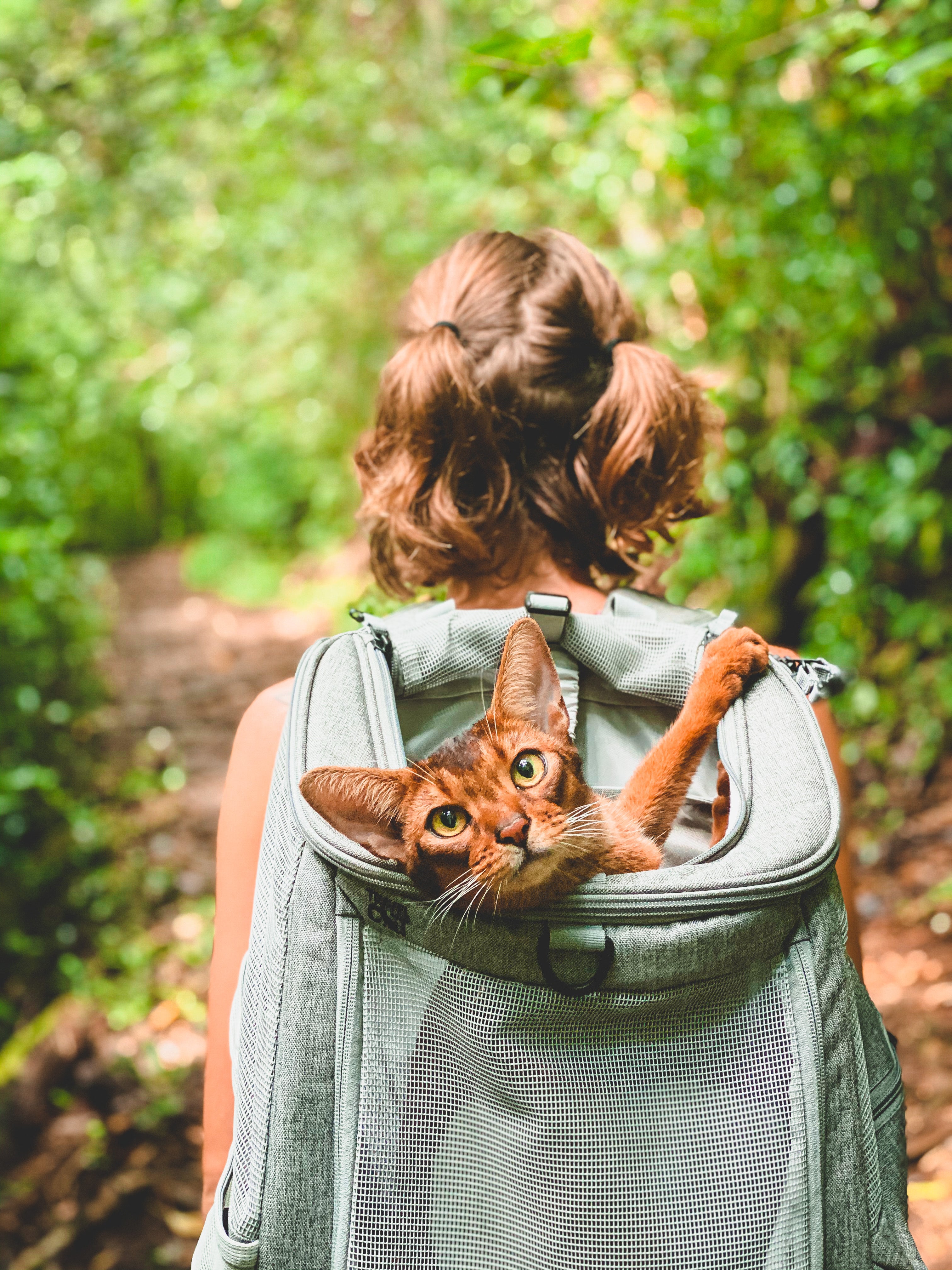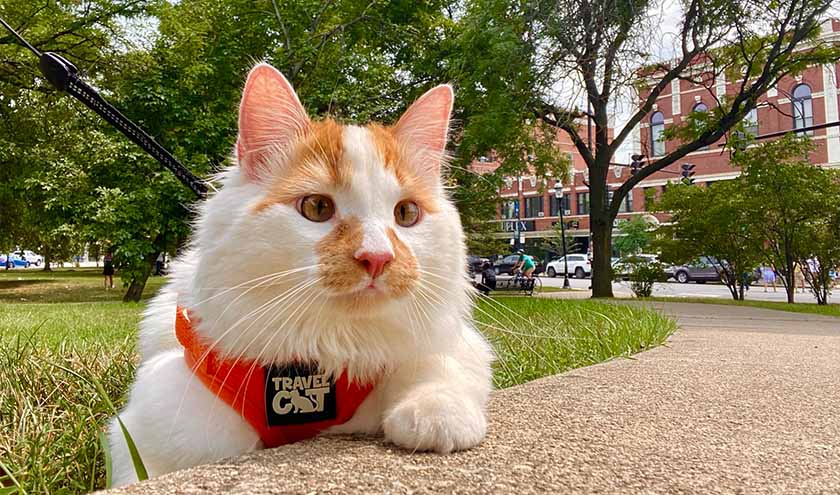 Why Does My Cat Want to Go Outside?
Watching your fur baby nap on her cat tree or lazily bat a ball of yarn, it's easy to forget that her ancestors were fearsome hunters. Sometimes, that wildcat blood makes your kitty want to go outs...
Read more